Your Reviews About the World
MyWorldReviews.com
Let the world know what you think
Carrabba's
Sarasota, Florida, United States
1940 Stickney Point Rd.
Sarasota, Florida, United States
34231
941-925-7407
carrabbas.com
View Map
Overall Experience:
8 / 10
Date Visited:
Tuesday, February 5, 2008
Seating:
Outdoor Dining Area
Carrabba's is a chain of Italian restaurants, similar to The Olive Garden, but of a slightly higher quality. This was my first visit to Carrabba's, and I was quite pleased. When we arrived around 6:30p, there was a 30-45 minute wait for indoor seating, but we were informed that outdoor seating was "first come, first serve". There was a table available, so we just went and sat down.
Cost
Entrees range in price from $15-$20.
Service
The outdoor service was rather disappointing. There was only one waiter on all the tables outside, and he was clearly frazzled. That being said, he did manage to perform quite well, although there was approximately a 5-10 minute delay after we sat down until he introduced himself to us, and cleared away the dishes from the previous group.
Parking
This Carrabba's is located in a commercial mall area with other vendors. There is plenty of free parking available.
Dress
Fairly casual - it was a hot day, and we were sitting outside, wearing shorts and a t-shirt. I'm not sure what people were wearing indoors, but I imagine it would also be somewhat casual.
Items Ordered
Bread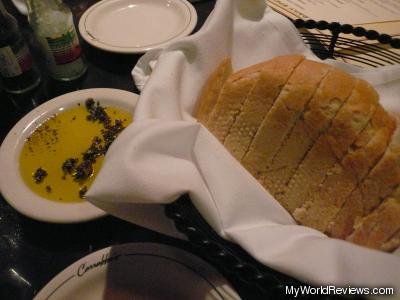 This was a white bread that was served hot. It was served with dipping oil with herbs. The oil and herb combination was really quite excellent. Everyone in our group loved the herb oil - it went very well with the bread.
House Salad
Half Salad
Cost:
$3 when added to entree
Each entree includes a choice of salad. We were sharing the entree, and the waiter was kind enough to have the salad split in half for us (so the salad pictured here is actually half a house salad). The salad was mostly lettuce with a couple other veggies, and had a vinaigrette dressing.
Pork Chop with a Port Wine Sauce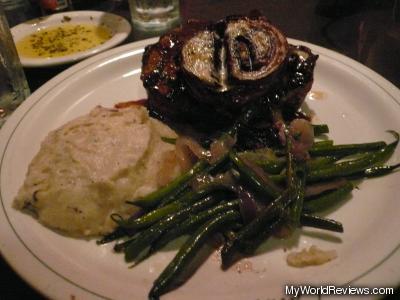 Specialty - Pork Chop with a Port Wine Sauce
A 12 oz. center-cut pork chop that is grilled to perfection, topped with an apple and fig infused port wine sauce and a roasted red onion. Served with garlic mashed potatoes and our Italian Green Beans, add a soup or salad for $3.
The pork chop was excellent. It was quite large, although it had a big bone in the back. The sauce was incredibly rich and flavorful, and not too salty.
The garlic mashed potatoes were pretty good, but what you'd expect from a typical American restaurant. The red onion was served with what tasted like a cream sauce. Mixing the onion and potatoes with the port wine sauce (from the pork chop) was a great way to make them taste even better. There was nothing special about the beans - I enjoyed them too.
Sogna di Cioccolata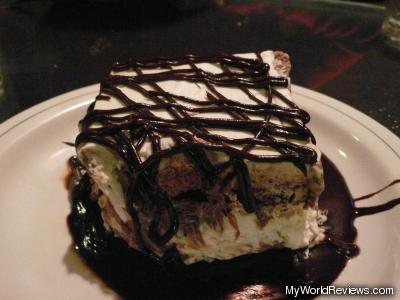 Sogna di Cioccolata
This chocolate cake had a brownie base, then a layer of chocolate cake. There was a white layer in the middle and again on top - possibly ice cream, or maybe just whipped cream. On top of the white layer, there was another layer of brownie. The dessert was topped with chocolate syrup. It was not a typical syrup, but tasted like a rich melted chocolate. The Sogna di Cioccolata was soft, creamy and delicious - I enjoyed it.
review contents
Cost
Service
Parking
Dress
Items Ordered
Bread
House Salad
Pork Chop with a Port Wine Sauce
Sogna di Cioccolata
related reviews
More reviews in Sarasota, FL
Been here? Want to write your own review of this restaurant?
linked reviews