Your Reviews About the World
MyWorldReviews.com
Let the world know what you think
Caliente Cab
New York, New York, United States
61 7th Ave South
New York, New York, United States
212-243-8517
calientecab.com
View Map
Overall Experience:
6 / 10
Date Visited:
Thursday, September 4, 2008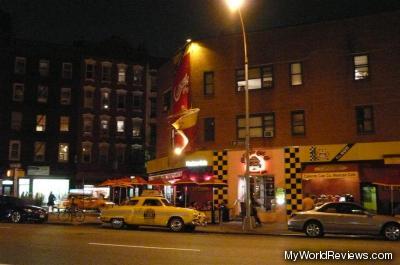 Caliente Cab
Caliente Cab is a Mexican restaurant with a couple locations around New York City. This location was in the West Village area. They had a very large outdoor patio in addition to indoor seating.
The street was kind of noisy, but it was otherwise enjoyable to sit outside. The restaurant seemed a bit overpriced, but at least the food was reasonably good.
Dress
Very casual
Cost
Slightly overpriced
Items Ordered
La Bandera Fria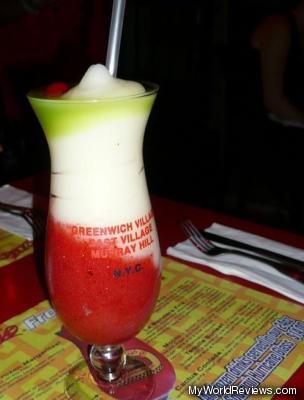 La Bandera Fria
Our tribute to Mexico. Caliente's strawberry daiquiri, pina colada, and melon liqueur, layered in the colors of the Mexican flag and garnished with a wedge of pineapple. Viva MEXICO
I was quite surprised that this beverage cost $14. Apparently the glass is a "souvenir glass" that's yours to keep, but very few people probably keep the glass. $14 seems excessive for a drink like this.
Although it was expensive, it was a pretty tasty frozen beverage. The menu said this was supposed to come with a wedge of pineapple, but ours was missing it.
Guacamole de Molcajete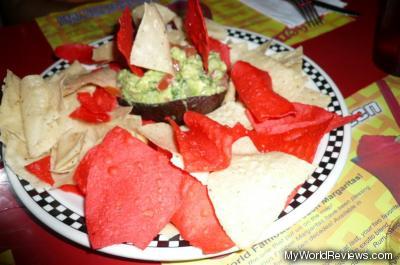 Guacamole de Molcajete
The freshest and best tasting guacamole ever made. Prepared to order with fresh avacado, tomato, cilantro, jalapenos, lime. More than enough to share. Order it mild, medium, or Caianta
The guacamole was very flavorful and chunky, the nachos were pretty good, too. This seemed like the kind of place where your table should have been provided with some nachos and salsa. I think a nice salsa would have gone well with the nachos too.
Chimichanga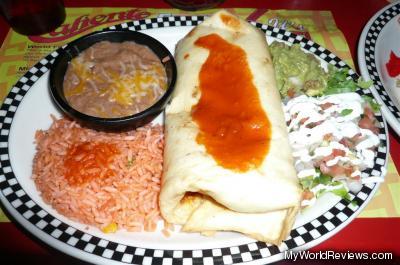 Chimichanga
A crisp fried tortilla bursting with plenty of chicken or beef, cheese and beans. Served with sour cream and guacamole
The Chimichanga was quite good - I was pleased with it. I ordered it with beef, and it had a fair bit of beef, beans, and cheese inside. It was also served with some beans in a small dish outside of the chimichanga.
Caliente Cab Tapas Flights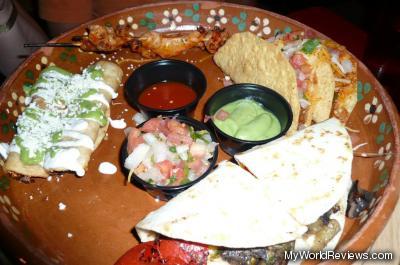 Caliente Cab Tapas Flights
Choose any four choices below and create your own Hot Tapas Flights - served in a clay bano.
We chose to order the Tapas Flights with:
Mini Tacos (One Mexican chicken taco and one Mexican beef taco)
Thai-Mex Shrimp (Two skewers of grilled gulf shrimp brushed with a tamarind/chipotle glaze)
Flautitas (One Mexican beef flautita and one Mexican chicken flautita, each with shredded mozzarella, tightly wrapped golden fried corn tortillas)
Everything was quite good. This was a good appetizer dish for two or three people, but if you're a light eater, you could probably share it between two people for a small dinner.
review contents
Dress
Cost
Items Ordered
La Bandera Fria
Guacamole de Molcajete
Chimichanga
Caliente Cab Tapas Flights
related reviews
More reviews of this restaurant
More reviews in New York, NY
Been here? Want to write your own review of this restaurant?