Your Reviews About the World
MyWorldReviews.com
Let the world know what you think
Burger Joint
New York, New York, United States
119 West 56th Street
New York, New York, United States
10019
212-708-7414
http://www.parkermeridien.com/eat4.php
View Map
Overall Experience:
3 / 10
Date Visited:
Sunday, November 14, 2010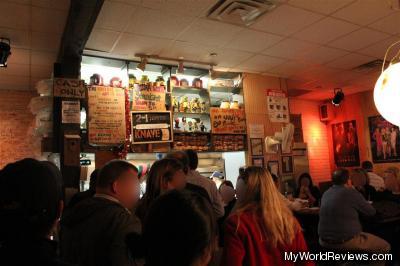 Burger Joint at Le Parker Meridien
Seating:
At a small bar table
The Burger Joint is a small restaurant tucked away in a corner off the lobby of Le Parker Meridien hotel in midtown Manhattan. The hotel is beautiful, but the Burger Joint is a grungy little restaurant hidden behind a big curtain.
Somehow the Burger Joint received a number of positive reviews early on, and now it often has a wait outside the restaurant to get in. Many people who visit NYC like to go here to experience the "best" burgers in the city. Unfortunately, they won't find those at the Burger Joint.
The many people who try to experience the burgers here often result in a line. When we visited, around 3pm on a Sunday, the wait to order was approximately 30 minutes. The crowds of tourists make the staff rushed and often a bit rude.
There are many other places in NYC that offer better value and a better experience. For delicious high-end burgers, try the Bare Burger. If you're looking for a cheaper spot to get a good burger, Five Guys Burgers and Fries offers better burgers without the attitude/wait.
Dress
Very casual
Cost
A plain burger is $6.89, a cheese burger is $7.35.
Service
The restaurant is very small, so there's only one person taking orders. The crowds are large, so the line is long.
Menus are available in 5 languages outside the store in case you want to order but don't speak English.
Reservations
Unavailable
Items Ordered
Two burgers, fries, and a milkshake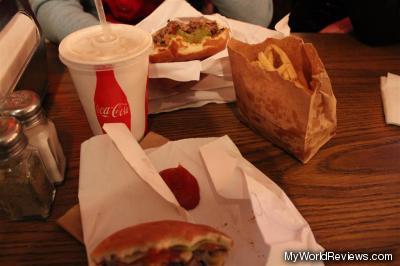 Two burgers, fries, and a milkshake
Cost:
$6.89 for the hamburger, $7.35 for the cheeseburger, $3.67 for the fries, and $5.05 for the milkshake (Total, including tax: $25)
Both the burgers and fries were frozen before being cooked. The burgers were pretty average hamburgers, and the fries were slightly below average. The milkshake was OK and tasted a bit watered down.
review contents
Dress
Cost
Service
Reservations
Items Ordered
Two burgers, fries, and a milkshake
related reviews
More reviews in New York, NY
Been here? Want to write your own review of this restaurant?
linked reviews
Bare Burger
Five Guys Burgers and Fries