Your Reviews About the World
MyWorldReviews.com
Let the world know what you think
Boeing Boeing
New York, New York, United States
220W 48th Street
New York, New York, United States
10036
212-239-6200
boeingonbroadway.com
View Map
Overall Experience:
7 / 10
Date Visited:
Saturday, November 15, 2008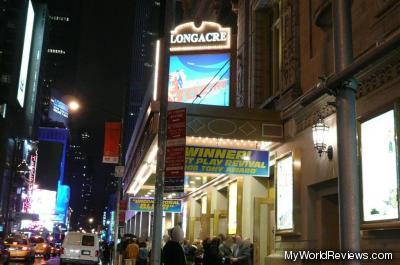 Boeing Boeing at the Longacre Theatre
Boeing Boeing is a comedy play on Broadway. It follows the story of a man living in Paris that has three women in his life - each of whom considers themselves to be engaged to him. His secret? They're all airline stewards on different schedules. When two of them are away working, the third one is home with him.
Unlike most broadway shows, Boeing Boeing doesn't have any singing or dancing. That was a nice change, as I don't particularly like musicals. The show was pretty funny, since (as you can imagine), the main character has difficulty keeping the women in his life separate.
The show was a relatively small production - there were only six actors, and the entire play took place in one room (a single set). The show contained some slap-stick humor, situational comedy, and poked fun at a couple ethnic stereotypes. I found it was a bit overdone at times, but overall it was an enjoyable and humorous show. Our group consisted of four different people (in our mid-20s), and we all enjoyed the show. None of us really loved it, but we didn't hate it either.
Dress
Like all broadway shows, people wore a variety of things to Boeing Boeing - everything from ratty jeans to a full suit. Most people were dressed quite casually.
Show Length
Boeing Boeing had one intermission. It started at 8pm, and we left the theater at 10:30pm.
Cost
We purchased discount broadway tickets from tkts for $60 each. These tickets cost half as much as the usual tickets to Boeing Boeing. The theater is fairly small, and it appeared that all seats had a good view.
review contents
Dress
Show Length
Cost
related reviews
More reviews in New York, NY
Been here? Want to write your own review of this live show?
linked reviews