Your Reviews About the World
MyWorldReviews.com
Let the world know what you think
Beyoglu Kalamar Restaurant
Istanbul, Istanbul, Turkey
Sahne Sokak No: 33 (Balik Pazari)
Istanbul, Istanbul, Turkey
(212) 244 36 57
beyoglukalamarrestaurant.com
View Map
Overall Experience:
6 / 10
Date Visited:
Sunday, March 2, 2008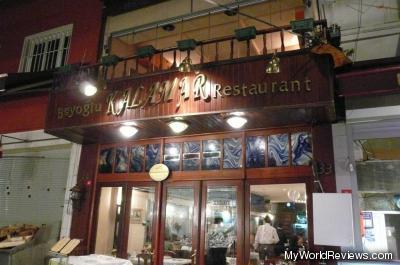 I was shocked to find that this restaurant had a website - and a nice one, too! We were "pulled into" this restaurant while walking down a side street off Istiklal Avenue (a big pedestrian street). There was a person recruiting customers standing outside. He spoke English, and was a good sales person, so we decided to go in and give it a try. It was also fairly empty at the time, so we figured it would be less smoky than busier restaurants. Shortly after we arrived, a large group arrived, and they were all smoking heavily, so our plan didn't work as anticipated.
The menu was also available in English, which also made it an attractive place to visit. The restaurant was two stories tall - we sat on the upper level, by the window.
Cost
Prices were average, I suppose - around 10 - 20 YTL for each entree. We were charged a 7 YTL "service fee" - at least that's what I assume it was. The items we ordered added up to 33 YTL, but the total bill came to 40 YTL.
Items Ordered
Bread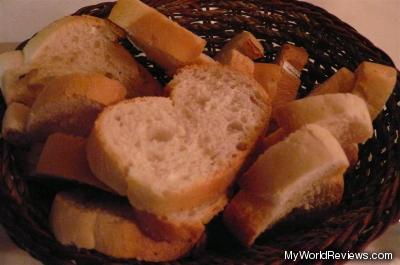 Bread
The bread was all white bread, and was fairly dry. It wasn't served with any butter or oil.
Roasted Red Peppers (Appetizer)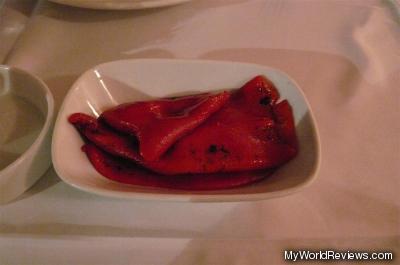 Roasted Red Peppers (Appetizer)
The roasted red peppers were served cold, and tasted very strongly like vinegar.
Chicken Kebab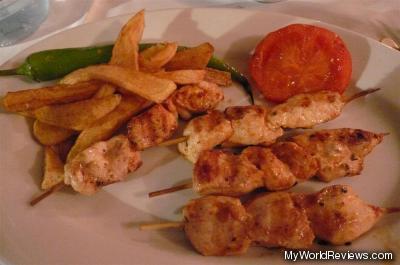 Chicken Kebab
The chicken had a nice grilled flavor, but it was still slightly dry. Otherwise, it was quite good. The fries were soft and tasty.
Beef Sote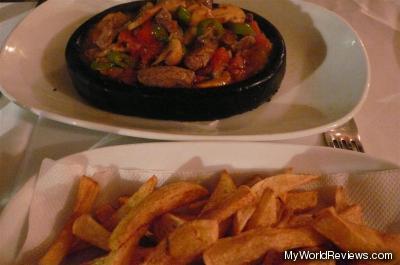 Beef Sote
The beef sote was very good. It was served in a delicious oil sauce. The peppers added a very nice spice. This was very good - almost like a stirfry. We spent our next few days in Istanbul looking for something else like this, but were unsuccessful. As with the chicken kebab, the fries were also very good.
Dress
Dress is fairly casual. The restaurant did look like it was trying to portray a slightly upscale environment (with tablecloths), but jeans are still fine.
Parking/Location
The street that the restaurant is on is very small - probably too small for cars to drive on. However, it is located near Istiklal Avenue, which is near Taksim. If you can get there, it's just a short walk to the restaurant.
Service
I don't think there are many people here who speak English, but the person who took our order spoke English well enough for us to order. ...so we didn't have any problems.
review contents
Cost
Items Ordered
Bread
Roasted Red Peppers (Appetizer)
Chicken Kebab
Beef Sote
Dress
Parking/Location
Service
related reviews
More reviews in Istanbul, Istanbul
Been here? Want to write your own review of this restaurant?
linked reviews