Your Reviews About the World
MyWorldReviews.com
Let the world know what you think
Balthazar
New York, New York, United States
80 Spring St.
New York, New York, United States
10012
212-343-1274
www.balthazarny.com
View Map
Overall Experience:
5 / 10
Date Visited:
Friday, February 20, 2009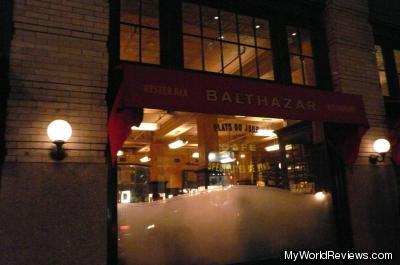 Balthazar in SoHo
Balthazar is a slightly upscale French restaurant in New York's SoHo neighborhood. The restaurant is a popular hot spot. It is fairly noisy inside, especially near the bar, since the restaurant is all open and the noise travels. Their dinner menu offers a variety of French appetizers and entrees.
We gave them a fairly low rating because they were somewhat expensive, and the quality of food was really just mediocre for this class of restaurant.
Dress
Smart casual. Although the restaurant is slightly upscale, jeans and a nice shirt are appropriate.
Cost
$25-$30 per entree
Service
The service was very attentive. There were many waiters coming around keeping our water glasses filled. They also refolded napkins when people went to the bathroom. There was also a person in the bathroom offering personal grooming products.
Reservations
When we arrived just before 7pm on a Friday evening, I think we were lucky to get the last available table. You can call for reservations if you want to avoid waiting in a line later.
Items Ordered
Free Bread Basket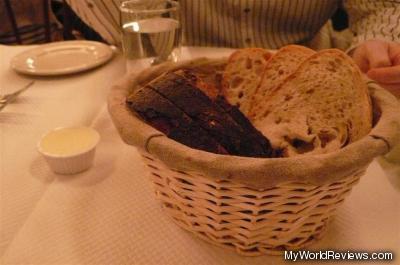 Bread Basket
There were many loaves of bread sitting on a rack in the middle of the restaurant. The waiters were constantly cutting slices of bread from the loaves on the rack to bring to each table. We could tell the bread was fresh, but it wasn't anything special.
Roasted Beet Salad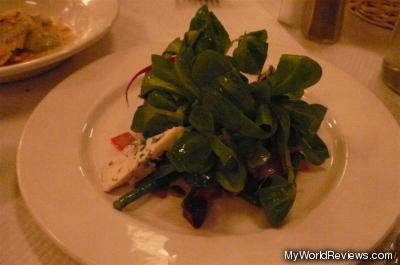 Roasted Beet Salad
With leeks, haricots verts, walnuts, and fourme d'Ambert
This was a different salad. I enjoyed it, but you have to be the kind of person who enjoys beets to enjoy this salad. There was a mild dressing, and it mixed well with the beets and green leaves. There was a bit of blue cheese on the side, which I didn't even want to try.
Spinach and Ricotta Ravioli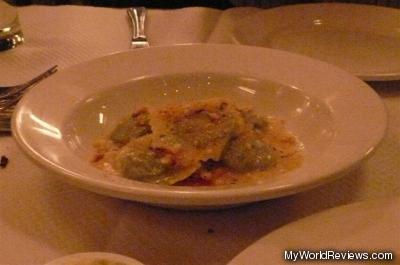 Spinach and Ricotta Ravioli
with thyme, butter and Parmesan
Cost:
$12 appetizer, $18 entree
The ravioli were pretty good. The butter thyme sauce on them was also delicious. It's pretty hard to go wrong with ravioli. This appetizer portion was shared between three people. It wasn't a huge portion - there were 6 ravioli.
Pork Milanese
Pork Milanese
with mesclun salad, red onion confit, cherry tomatoes and artichokes
This dish was a real disappointment. It really was just a large piece of breaded pork with a cold salad thrown on top. It didn't go well together at all, and there was something missing with the pork. There wasn't enough sauce and it was just very plain tasting. I also thought the meat quality wasn't that great - there were some fatty bits.
Grilled Lamb T-Bones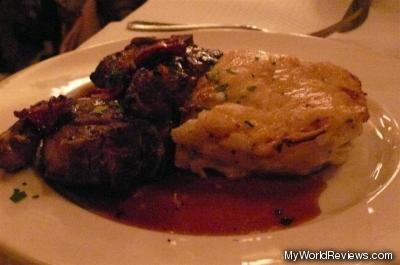 Grilled Lamb T-Bones
with Dauphinoise potatoes and rosemary
This dish on the other hand, was pretty good. The meat was quite tender. It had a bit of a nice sauce on it that was very good. It was very awkward to eat with the big piece of bone in the middle.
The potatoes were excellent. There were layers of sliced potatoes mixed in with some cheese and baked to a crisp. It was very good and went well with the meat.
Chocolate Pot de Creme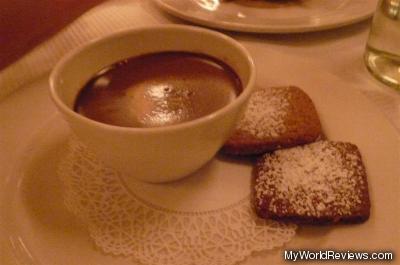 Chocolate Pot de Creme
with toasted coconut cookies
The pot de creme was pretty good, but I've had better. It was a cup of chocolate mousse. The cookies weren't very good, and didn't really taste much like coconut.
review contents
Dress
Cost
Service
Reservations
Items Ordered
Free Bread Basket
Roasted Beet Salad
Spinach and Ricotta Ravioli
Pork Milanese
Grilled Lamb T-Bones
Chocolate Pot de Creme
related reviews
More reviews of this restaurant
More reviews in New York, NY
Been here? Want to write your own review of this restaurant?