Your Reviews About the World
MyWorldReviews.com
Let the world know what you think
All My Sons
New York, New York, United States
236 W. 45th Street
New York, New York, United States
10036
allmysonsonbroadway.com
View Map
Overall Experience:
7 / 10
Date Visited:
Tuesday, December 16, 2008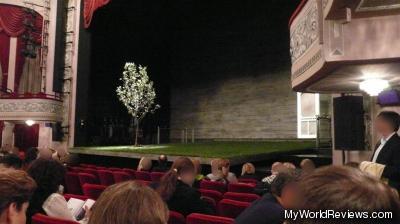 The Stage of All My Sons on Broadway
All My Sons is a broadway play performing at the Gerald Schoenfeld Theatre until January 11, 2009. I have been to many broadway shows before, but they have been either musicals, comedies, or other "fun" shows. All My Sons was quite different (but still very good).
All My Sons stars John Lithgow (from Third Rock from the Sun), with a more minor role played by Katie Holmes. Both were reasonable actors, and contributed to an overall enjoyable experience at the show.
The play takes place in the past, and tells the story of a family who is trying to recover from the death of one of their sons during the war. We later discover that other family members have their secrets, too. I can't really say that the play is a happy play, although part of the ending can be interpreted as happy. Everything does come to a resolution (which is good), although it may not be the resolution the audience is hoping for.
I thought All My Sons on Broadway presented an interesting story, and nobody in our group had any difficulty sitting through it. It felt very much like reading a book, but rather than reading, having the story acted out for you. Everyone in our group enjoyed All My Sons to varying degrees.
Estimated Visiting Time
The play lasts 2:15, which includes one fifteen minute intermission. The first half of the play, before the intermission, contains the first act, while the second half contains the last two acts.
Cost
Tickets usually cost around $110, but there are often half price tickets available from TKTS discount tickets.
review contents
Estimated Visiting Time
Cost
related reviews
More reviews in New York, NY
Been here? Want to write your own review of this live show?
linked reviews