Your Reviews About the World
MyWorldReviews.com
Let the world know what you think
Accent on Youth
New York, New York, United States
261 West 47th Street
New York, New York, United States
10019
View Map
Overall Experience:
5 / 10
Date Visited:
Saturday, April 25, 2009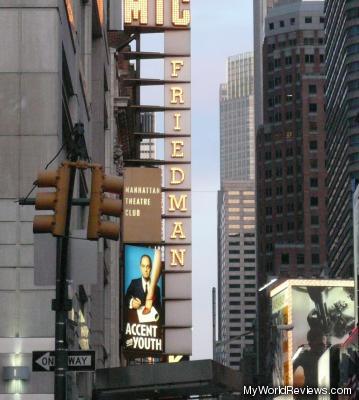 Accent on Youth
Accent on Youth is a Broadway play about a playwright, his career, and his relationships. The role of the playwright is currently being performed by David Hyde Pierce (who is best known for playing Niles Crane on the TV show "Frasier"). I found the play enjoyable, and certainly not hard to sit through, although it wasn't one of the best plays I've seen.
Accent on Youth explores the romantic interests of the playwright and his butler - and particularly how these are affected by the ages of the people involved. It is difficult to try and fit this play into any particular genre. It's not a comedy, although there are quite a few mildly humorous puns. It's not quite a tragedy, although there are some sad reflective moments. The play appeared to be making a statement about the value of youth, and how fragile relationships can be.
One of the unique aspects of the play is how it was reflected in the script that the playwright had written. Many things that were discussed about the script later appeared true in the stage production. I thought that was a clever touch.
Length
The play was a bit shorter than most other shows I've seen. The play lasted about two hours, including the 15-minute intermission.
Cost
Full priced tickets are in the $100 range, although you may be able to find half price tickets at a TKTS booth.
review contents
Length
Cost
related reviews
More reviews in New York, NY
Been here? Want to write your own review of this live show?
linked reviews