Your Reviews About the World
MyWorldReviews.com
Let the world know what you think
Waterloo West Side Trails: Forested Hills
Waterloo, Ontario, Canada
Overall Experience:
7 / 10
Date Visited:
Sunday, November 18, 2007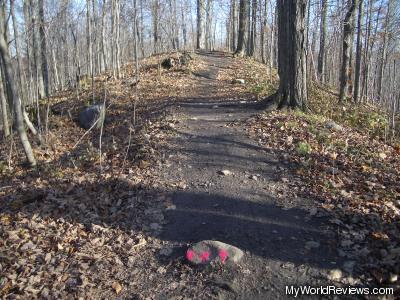 Notice the pink paint on one of the rocks near the bottom of the picture marking the trail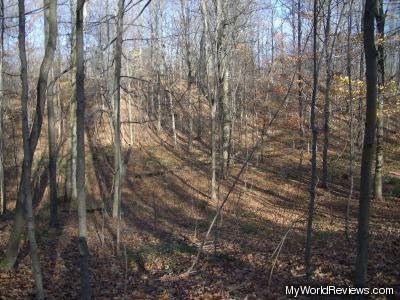 A view of the trees from the path
At the west side of Waterloo, there is a forest that has a number of walking trails through it. The map here marks the location of one of the entrances to these trails. There are additional entrances scattered around the borders of the forest. There is another entrance just south of Red Osien Road, and another two entrances off the park at the corner of Blue Beech Blvd. and Wild Birch Ave. (also in the northwest corner of Waterloo).
The trails themselves are nice and scenic. Parts of the trails are on paths that are visibly marked with pink paint. Other trails are less obviously marked. Parts of the trails involve steep ascents and descents, which can be slippery and muddy if it has rained recently.
Inside the forest, there is no "main trail". Instead, each path often splits up into multiple paths which loop back and join each other at different points later in the forest. Some parts of the forest border on farmers fields, or in this strange fenced off area that promises "future development". (It's strange that they're saying a future development will take place there - the rest of the forest has signs that say "Environmentally sensitive area - stay on path").
Estimated Visiting Time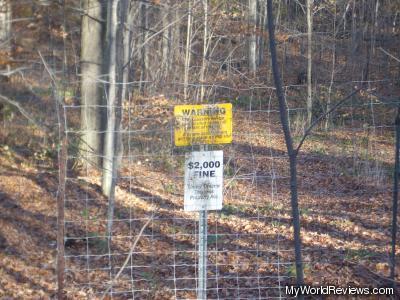 Fenced Off Area
The area is quite large, but not huge. You could easily spend an hour or two walking through the many paths.
review contents
Estimated Visiting Time
related reviews
More reviews in Waterloo, ON
Been here? Want to write your own review of this attraction?