Your Reviews About the World
MyWorldReviews.com
Let the world know what you think
Van Gogh Museum
Amsterdam, Noord-Holland, Netherlands
7 Paulus Potterstraat
Amsterdam, Noord-Holland, Netherlands
31-020-570-5200
www.vangoghmuseum.nl
View Map
Overall Experience:
5 / 10
Date Visited:
Sunday, July 13, 2008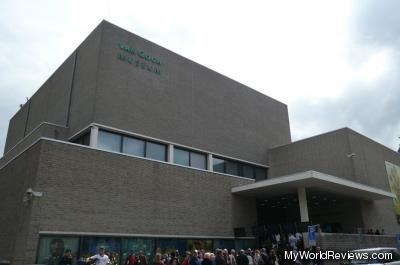 The Van Gogh Museum is an art gallery containing many of Vincent Van Gogh's paintings. The museum also gives a biography of Van Gogh through textual descriptions on the walls. The artwork is organized by the different time periods in Van Gogh's life, so that you can see how his style changed over time. Many pieces also had a short description describing the scene and their significance.
The lower level of the museum had a video theater playing a movie about Van Gogh. I found the video fairly interesting as it provided an overview of Van Gogh's life and work. The video is 15 minutes long.
The ground floor contained artwork by artists who inspired Van Gogh. The second floor contained all the artwork of Van Gogh. The upper levels contained art by other artists. For a Van Gogh museum I was a little disappointed by the portion of artwork that was his. The museum contained about 200 of his 800 paintings, and only a few of the really famous pieces.
There is an audio guide available for an additional fee. We found the audio guide mostly useless. It talked about the "feelings" and "emotions" the painting gave you. I don't need an audio guide to tell me that. There was very little interesting information presented in the audio guide, and most of it was written on the walls and plaques.
Overall we were disappointed with the Van Gogh museum. A Van Gogh fan might really enjoy it, but we found it mostly boring and overpriced compared with other attractions in the area.
Estimated Visiting Time
We spent about 90 minutes in the museum, including the 15 minute video. We spent most of our time on the second floor looking at Van Gogh's work, and then rushed through the upper levels which didn't interest us.
Cost & Other Information
The cost was €12.50 per person. Unlike most places in the area, they do take major credit cards. The audio guide was an additional €4.
The museum is located about a 40 minute walk from Amsterdam central, but is located close to several other museums including the Diamond Museum. There is also a tram that stops close by.
There are free bathrooms available in the museum.
Photography is not allowed. Although you can bring in a small purse, large bags and umbrellas must be left at the coat room for free.
review contents
Estimated Visiting Time
Cost & Other Information
related reviews
More reviews in Amsterdam, Noord-Holland
Been here? Want to write your own review of this attraction?
linked reviews
Diamant Museum (Diamond Museum) Amsterdam