Your Reviews About the World
MyWorldReviews.com
Let the world know what you think
Tourist Information Center Bathrooms
Prague, Prague, Czech Republic
Overall Experience:
5 / 10
Start Date:
Tuesday, March 11, 2008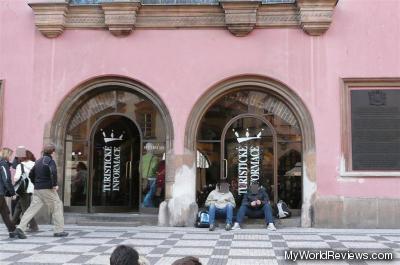 The front of the tourist information building
There is a tourist information booth in the Prague Old Town Square, right next to the Astronomical Clock. We found that the main reason for visiting the building was to make use of the bathrooms that were available (for 3 Kc each) inside.
Although they weren't the nicest, they were adequate, and the location was good.
After entering the bathroom, a person was there to collect 3 Kc from you. They had change, if you didn't have exact change.