Your Reviews About the World
MyWorldReviews.com
Let the world know what you think
The Golden Lane
Prague, Prague, Czech Republic
Prague Castle
Prague, Prague, Czech Republic
View Map
Overall Experience:
5 / 10
Date Visited:
Wednesday, March 12, 2008
Golden Lane
The Golden Lane is a street of small houses that's included with your paid admission to Prague Castle. The street is neat, because the houses are so tiny. The houses are currently used as shops for vendors trying to sell items to tourists. The shops sell a lot of unique items that are fun to look at, for example, one store was selling hand made marionettes.
There is also an upper level that runs above the shops. It is a bit of a "medieval armor" museum. They have a collection of different types of armor. There is also a shop there that sells armor and weapons. The entrance to the upstairs is inside the "big" yellow house. There is a staircase there that will take you up.
Although The Golden Lane requires paid admission to Prague Castle during the day, it is free in the evenings, usually after 5:00pm, when the stores close. You can see the small houses when the street is closed, but you can't go inside them.
Estimated Visiting Time
We probably spent about 45 minutes here. Probably about 20 minutes poking our heads in all the houses, and then another 25 minutes looking at the collection of armor above the houses.
Cost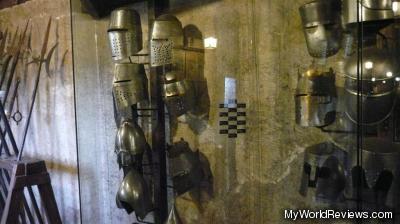 Armor collection
During the day, when the stores are open, you must purchase admission to the Golden Lane by purchasing a tour of Prague Castle.
review contents
Estimated Visiting Time
Cost
related reviews
More reviews in Prague, Prague
Been here? Want to write your own review of this attraction?
linked reviews