Your Reviews About the World
MyWorldReviews.com
Let the world know what you think
The Eiffel Tower
Paris, Ile-de-France, France
Eiffel Tower
Paris, Ile-de-France, France
tour-eiffel.fr
View Map
Overall Experience:
8 / 10
Date Visited:
Friday, September 4, 2009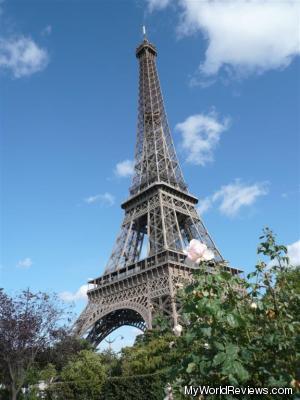 The Eiffel Tower
The Eiffel Tower is a famous landmark located in Paris, France. It is open for visitors to ascend. It is the highest structure in Paris, and provides a very nice lookout point from which to observe the city, and its various sights. It is quite neat to be able to see the street layout from above.
The tower itself consists of three levels. Each level has an observation deck, free bathrooms, and the first two levels have restaurants and other food sales.
Tickets are necessary to go up to the observation decks. Depending on how high up the tower you want to go, different tickets are available. It is possible to walk up to the first two observation decks (for a lower price), although it is only possible to go up to the third level by elevator (which is an additional 5€ charge from the second level).
The walk up to the second observation deck is just over 650 stairs. It sounds like a lot, but any person in reasonable shape should be able to make the walk up. Along the way, there are many informational displays that talk about the tower's history. They provide a convenient place to stop, read the information, and take a break from climbing. The stairs often close at 6pm, while the elevators often run until midnight.
Cafes
We had a sandwich and a hot chocolate at one of the cafe's on the Eiffel Tower. The sandwich was both overpriced and quite disappointing, but the hot chocoalte was very good. I have heard that the restaurants are better, although they are fairly expensive.
Cost
The Paris Museum Pass does not include the Eiffel Tower. Elevator rates are 8€ to the second floor, or 13€ to the top floor. It costs only 4€50 to climb the stairs to the second level (plus an additional 5€ to take the elevator to the top).
Estimated Visiting Time
There are a number of informational displays going up the stairs and on the first level. If you read them all, it can take 15 minutes to climb the stairs, and another 45 minutes reading the displays on the first level. There will probably be a wait of up to 30 minutes to take the elevator to the top. Overall, depending on how much time you spend looking around, the entire experience can take anywhere from 30 minutes to 2 hours.
review contents
Cafes
Cost
Estimated Visiting Time
related reviews
More reviews in Paris, Ile-de-France
Been here? Want to write your own review of this attraction?