Your Reviews About the World
MyWorldReviews.com
Let the world know what you think
TI Buffet
Las Vegas, Nevada, United States
3300 Las Vegas Blvd. South
Las Vegas, Nevada, United States
89109
800-288-7206
View Map
Overall Experience:
8 / 10
Date Visited:
Saturday, October 13, 2007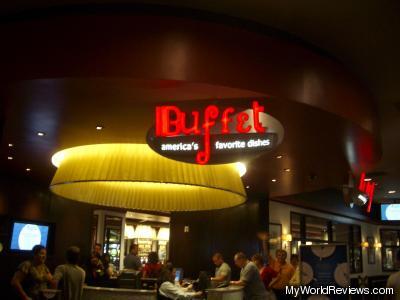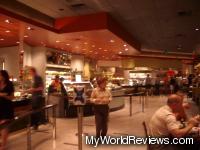 Inside the Buffet
This is a review for the Buffet at the TI (Treasure Island) Hotel in Las Vegas. TI recently changed the name of their buffet from "Dishes" to simply "Buffet". For brunch, most of the food stations were open. There was an omlette bar, a smoothie station (which quickly ran out of the "red" smoothie, and was left only with many "yellow" smoothies), a meat carving station, and an excellent dessert section, as well as other typical breakfast foods such as bagels, toast, cereal, eggs, pancakes, and French toast. There were a couple of stations that didn't open until 11am: salads and some sea food.
The food quality varied from item to item. Some food was mediocre, while others were excellent. The two highlights of this buffet were the smoothie station, and the dessert selection. Not many places offer smoothies, and the ones at this buffet were quite good.
The dessert selection was very good. There were fruits available, along with many different types of pastries, delicious mini donuts, cinnamon buns, and "dessert pizza" (that was actually quite disappointing).
Dress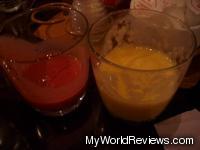 Fruit Smoothies
Shorts and a t-shirt are perfectly acceptable.
Reservations
Desserts - Donuts and a cinnamon bun
Likely not accepted. Like most buffets in Vegas, if you get there early, you should be fine. If you get there late, depending on the time of year, you can expect to wait.
Cost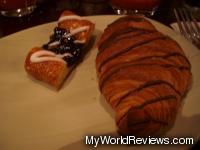 More desserts - a danish and chocolate croissant
The weekend brunch costs $15/person
review contents
Dress
Reservations
Cost
related reviews
More reviews in Las Vegas, NV
Been here? Want to write your own review of this restaurant?