Your Reviews About the World
MyWorldReviews.com
Let the world know what you think
Sunflower Diner
New York, New York, United States
359 3rd Ave
New York, New York, United States
10016
212-532-8171
View Map
Overall Experience:
7 / 10
Date Visited:
Sunday, December 14, 2008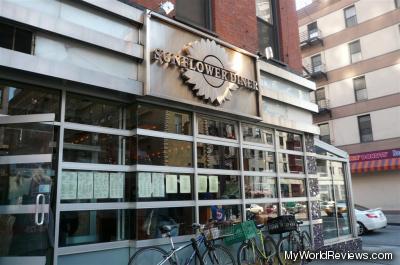 Sunflower Diner
The Sunflower Diner is a diner located at the corner of 26th street and 3rd avenue in Manhattan. We usually visit there for brunch on weekends, since they offer some pretty decent quality brunch items for a very affordable amount.
Dress
Very casual
Cost
Quite reasonable - brunch items on the weekend are $14.50. Many breakfast items are available for less than $10.
Service
It's typically busy on the weekend, so everyone is busy. The servers are fairly efficient.
Reservations
I don't think reservations are accepted. If you don't get there early (before 10-11am), there may be a short wait.
Items Ordered
Western Omelette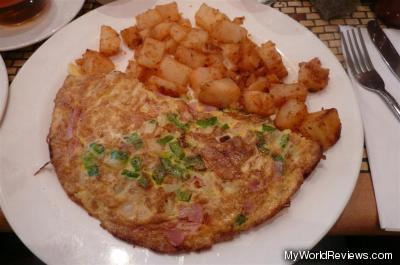 Western Omelette
3-egg omelette served with toast and home fries
At three eggs, this western omelette was pretty big. It contained green peppers, ham, and possibly onions. The home fries were quite disappointing - they were very cold, and too hard. They hadn't been cooked long enough. Other members of our group also had home fries, but theirs were much better.
Brunch - Walnut Banana Blueberry Pancakes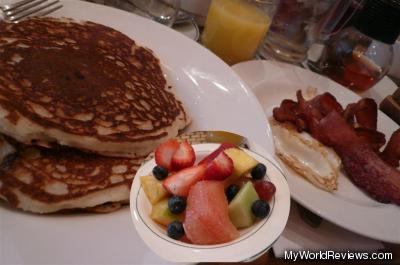 Walnut Banana Blueberry Pancakes with eggs and bacon (and tea, juice, fruit)
Walnut Banana Blueberry Pancakes w/ eggs and bacon All brunches include choice of juice and choice of cantaloupe or fresh fruit salad, and choice of coffee/tea/soda
The brunch items at Sunflower Diner are huge. This selection came with three very large blueberry pancakes. They would have been large enough for a breakfast on their own. The brunch additionally came with juice (we selected orange juice), two eggs, some bacon, and a fruit bowl. It's a huge breakfast that's large enough to share between two people.
The pancakes were quite good, and everything else was average diner quality (good, but nothing special).
review contents
Dress
Cost
Service
Reservations
Items Ordered
Western Omelette
Brunch - Walnut Banana Blueberry Pancakes
related reviews
More reviews in New York, NY
Been here? Want to write your own review of this restaurant?