Your Reviews About the World
MyWorldReviews.com
Let the world know what you think
St. Nicholas Church
Prague, Prague, Czech Republic
Malostranske Namesti
Prague, Prague, Czech Republic
View Map
Overall Experience:
6 / 10
Date Visited:
Sunday, March 9, 2008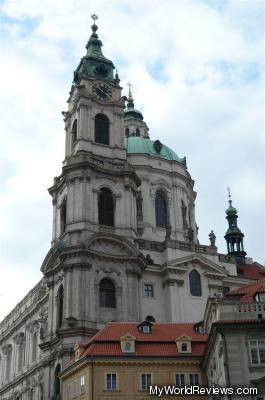 The back of St. Nicholas Church
There are three churches in Prague that are all called "St. Nicholas Church". That makes it difficult to find which church you're referring too. This one is across the Charles Bridge from the Old Town Square. After you cross the bridge, keep walking straight until you get to the end of the street, and it will be on your right-hand side (see the map). It's in the "Mala Strana" area.
This is the only church in Prague that you need to pay to go inside. All the other ones are free. I didn't think that this church was that much better than the other ones to make it worth paying.
The interior is very nice, and has lots of altars and large statues. There is an upper gallery that has a small collection of paintings (approximately 10). There is a good view of the church from the upper gallery. The church also has a large organ - it would be neat to see a concert here.
Cost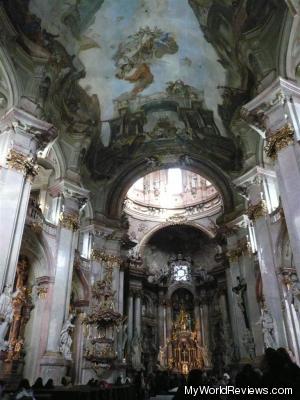 Inside St. Nicholas Church
Entrance is 70Kc per person, or 35Kc for student entrance. As mentioned, we didn't think this church was that much nicer than all the other churches in the area to make it worth the money.
Almost everyone inside was taking lots of pictures, although there may have been a sign that asked for visitors to refrain from photography.
Estimated Visiting Time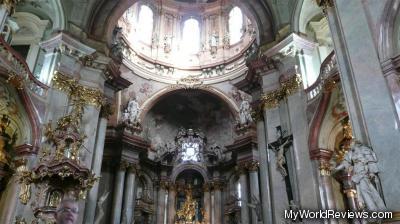 Another picture inside the church, looking towards the front
There aren't any signs telling you why anything is significant, so there's not much to do inside the church besides walk around and take a look at all the altars, statues, and paintings. Visitors should allow 30-45 minutes to visit this attraction.
Dress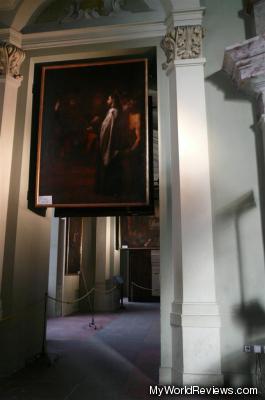 There were paintings in the upper gallery of the church
It's a church, so I wouldn't wear something too offensive, but they're used to tourists, so shorts and a t-shirt are probably fine.
review contents
Cost
Estimated Visiting Time
Dress
related reviews
More reviews in Prague, Prague
Been here? Want to write your own review of this attraction?
linked reviews
Charles Bridge
Prague Old Town Square