Your Reviews About the World
MyWorldReviews.com
Let the world know what you think
St. George's Basilica
Prague, Prague, Czech Republic
St. George's Basilica at Prague Castle
Prague, Prague, Czech Republic
View Map
Overall Experience:
3 / 10
Date Visited:
Wednesday, March 12, 2008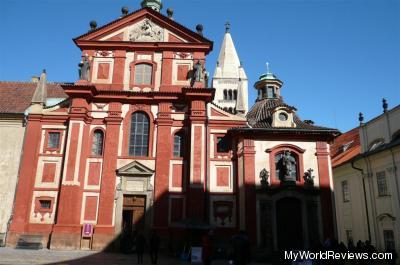 St. George's Basilica was an attraction that was included with our paid admission to Prague Castle. We had also paid for the audio guide, so we were hoping that would help us out in here. Unfortunately, the audio guide was boring, and difficult to follow, so we didn't have much luck. None of the locations on the audio guide map were marked, so we couldn't tell what the audio guide was talking about.
St. George's Basilica was quite small, and we didn't get much out of the visit. Nothing was marked, so we weren't sure what we should be looking at, and the audio guide was quite poor. We were able to tell that some people were entombed here, but that's all we got out of it.
I was disappointed with this attraction, and most of Prague Castle.
related reviews
More reviews in Prague, Prague
Been here? Want to write your own review of this attraction?
linked reviews