Your Reviews About the World
MyWorldReviews.com
Let the world know what you think
Sainte-Chapelle
Paris, Ile-de-France, France
4 boulevard du Palais
Paris, Ile-de-France, France
75001
33 / (0)1 53 40 60 80
View Map
Overall Experience:
8 / 10
Date Visited:
Sunday, September 6, 2009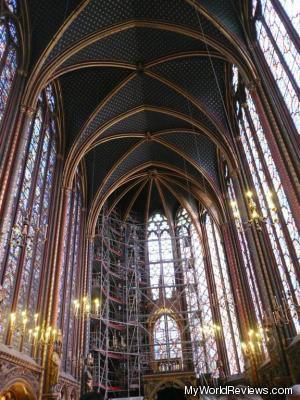 Inside Sainte-Chapelle
Sainte-Chapelle is a beautiful old church in Paris, located near Notre-Dame Cathedral. It is a two-level church. Entrance is into the bottom level, which is fairly plain. The upper level is what is special about Sainte-Chapelle. I have never seen a church with so many windows. The windows are so large, it's hard to believe that they can hold the roof up. The windows let in a lot of light, and they look quite beautiful from the inside when it is bright out.
As of the time of writing, Sainte-Chapelle is undergoing a restoration procedure to clean the windows. Most of them are cleaned now, but there are still a few windows remaining that are covered in many years of dirt.
Sainte-Chapelle has tours in different languages throughout the day. We were lucky and managed to catch an English tour. We found it very beneficial. Our tour guide explained some of the stories on the windows, explained how the windows are read "in order" (usually from left-to-right, bottom-to-top), and showed us some of the more recognizable scenes in the windows.
Cost
There is an admission charge of 8€ for adults. Sainte-Chapelle is quite impressive, and worth the admission cost if you haven't seen a church built in this style before. Entrance is also included in the Paris Museum Pass.
Estimated Visiting Time
If you manage to catch a tour, expect to spend about an hour inside Sainte-Chapelle. Otherwise, 30 minutes should be sufficient. There isn't anything to do here other than look at the windows.
review contents
Cost
Estimated Visiting Time
related reviews
More reviews in Paris, Ile-de-France
Been here? Want to write your own review of this attraction?
linked reviews