Your Reviews About the World
MyWorldReviews.com
Let the world know what you think
Prague Old Town Square
Prague, Prague, Czech Republic
Overall Experience:
8 / 10
Date Visited:
Sunday, March 9, 2008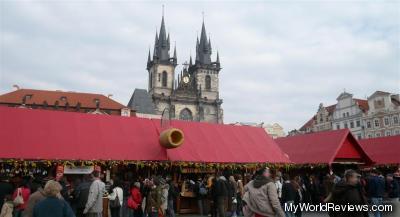 Prague Old Town Square during the Easter Festival
The Prague Old Town Square is a fairly large square in Prague that often hosts festivals. There are a number of attractions nearby (such as the Astronomical Clock). The Old Town Square has a lot of restaurants and shops all around it. The restaurants are priced for tourists, but all have outdoor patio seating, adding to the atmosphere of the square. There is also a tourist information booth at one corner of the square. The Free Prague Tours leave from the corner just outside the tourist information store. The Charles Bridge is also located nearby.
When we visited the Old Town Square, there was an Easter Festival taking place for the entire month (of March). There was a stage set up for performers, and there were lots of vendors selling food, snacks, and "festival trinkets".