Your Reviews About the World
MyWorldReviews.com
Let the world know what you think
Prague Astronomical Clock
Prague, Prague, Czech Republic
Overall Experience:
3 / 10
Date Visited:
Sunday, March 9, 2008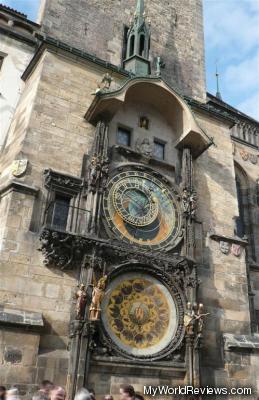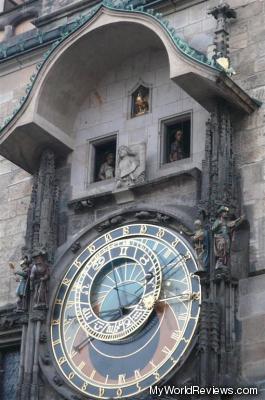 The astronomical clock on the hour
The Prague Astronomical Clock is located in the Prague Old Town Square. It's a fairly nice looking clock, and is a big tourist attraction in the area.
Before we arrived in Prague, we had heard from a number of independent sources that we have to see the clock on the hour. We heard this enough times that we were quite looking forward to seeing whatever show happened on the hour.
We, along with about 100 other people, were waiting in front of the clock for the hourly show. I must say, I was very disappointed! The "show" isn't anything at all worth seeing. The little doors at the top of the clock open, and you can see some little statues of the apostles at the top. That's it. I suppose it is *something*, but certainly don't get your hopes up!
After we had watched the show, we heard another tourist in the audience say (to her friend), "Well, that's not going to be the highlight of my trip!" We found that quite funny, since we were thinking the same thing!
If you happen to be in the area when the astronomical clock does its "show" on the hour, sure, stick around and watch it, but it's nothing to get excited about.
related reviews
More reviews in Prague, Prague
Been here? Want to write your own review of this attraction?
linked reviews