Your Reviews About the World
MyWorldReviews.com
Let the world know what you think
Periyali
New York, New York, United States
35 West 20th St # A
New York, New York, United States
10010
212-463-7890
periyali.com
View Map
Overall Experience:
6 / 10
Date Visited:
Sunday, February 13, 2011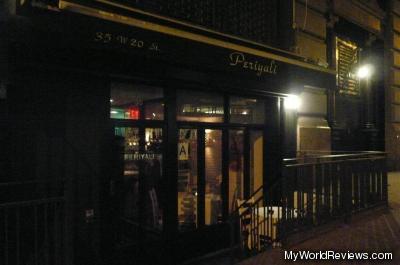 Periyali
Seating:
Room with a Skylight
Periyali is a Greek restaurant located near Union Square in NYC. The greek salad we had was excellent, but everything else was just OK. The restaurant was more expensive than it seemed like it should have been. The only reason it is rated this high is because we were seated in a beautiful white room in the back that had skylights in the ceiling. It was one of the few places you can have dinner 'under the stars', even in the winter.
Dress
The restaurant is somewhat upscale, although still fairly casual. Smart casual is appropriate.
Cost
Entrees range from $20-$30.
Items Ordered
Spanakopita, Tiropita Kai Kolokithokeftedes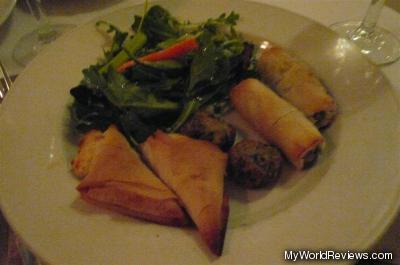 Spanakopita, Tiropita Kai Kolokithokeftedes
Spinach pie, cheese pie, and zucchini fritter
This appetizer contained two of each type of pastry. All of the pastries were a bit better than average and not as overly salty as these types of pastries occasionally are. The pastries were also served with some arugula and oil on the side.
Horiatiki Salata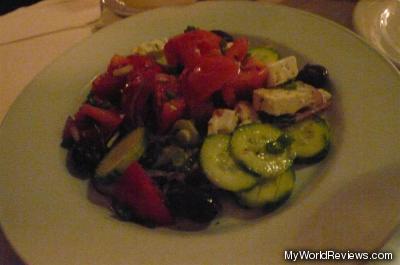 Horiatiki Salata
Salad of tomatoes, feta, cucumber, red onions, olives, and oregano
The greek salad was the best item we ordreed at Periyali. The tomatoes and cucumbers were sitting on huge chunks of feta cheese, swimming in olive oil.
Mousakas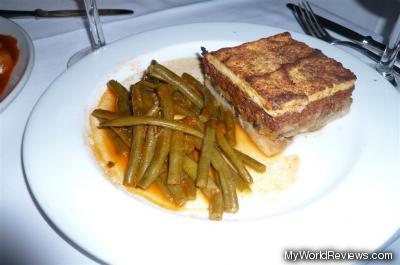 Mousakas
Casserole dish with layers of eggplant, ground lamb, bechamel sauce
The mousaka tasted like a pretty average shepherd's pie. There was a little bit of eggplant underneath the lamb, and it was flavored decently. The beans tasted like they were boiled and topped with a nicely spiced tomato puree.
Kouneli Stifado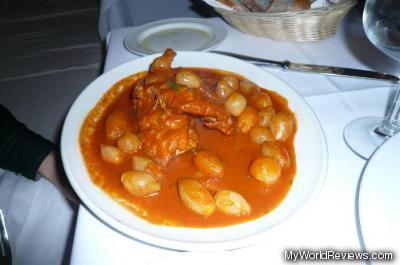 Kouneli Stifado
Rabbit stewed in tomato with red wine and pearl onions
I was quite disappointed in the rabbit stew. The rabbit was difficult to eat, and the sauce didn't have any flavor of red wine - it just tasted like tomato puree. It was OK tasting, but I didn't think it was worth the effort of eating the rabbit.
review contents
Dress
Cost
Items Ordered
Spanakopita, Tiropita Kai Kolokithokeftedes
Horiatiki Salata
Mousakas
Kouneli Stifado
related reviews
More reviews in New York, NY
Been here? Want to write your own review of this restaurant?