Your Reviews About the World
MyWorldReviews.com
Let the world know what you think
Paradise Garden Buffet (Flamingo Buffet)
Las Vegas, Nevada, United States
3555 Las Vegas Blvd South
Las Vegas, Nevada, United States
89109
888-902-9929
View Map
Overall Experience:
8 / 10
Date Visited:
Sunday, October 14, 2007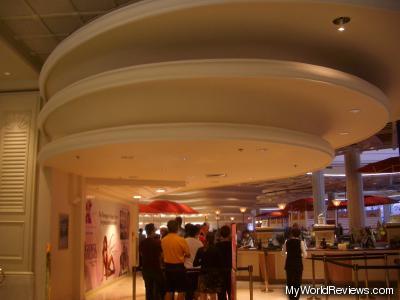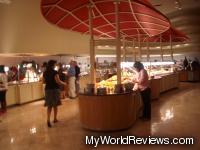 Inside the Buffet
Seating:
Next to the Flamingo Window
The Paradise Garden Buffet is the buffet offered by the Flamingo Hotel. Some of the tables overlook the Flamingo Wildlife Habitat - if you get to the buffet early, or if you request a window table and are willing to wait, you can have a great view while dining. (The tables with the best view of the Flamingo Wildlife Habitat are for VIPs only, but if you get there early and are nice, you may get one anyway).
There was a lot of seafood at this buffet, but it was quite large, so there were lots of non-seafood items as well. There was a small selection of breads, a large salad bar, many different meats, vegetables, pastas, and even an asian section.
The buffet had a dessert section almost as large as the entire dinner area - there were tons of desserts available. There was ice cream, cakes, cookies, crepes and many other fine dessert items available.
Dress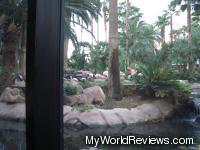 Flamingos from the seating area at the buffet
Casual dress (shorts and a t-shirt) is perfectly acceptable.
Reservations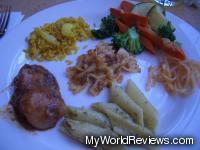 Entrees
Probably not accepted. If you arrive early (5pm), there won't be a lineup - on some days, the whole seating area doesn't even open until 5pm. If you arrive later, there may be a wait.
Cost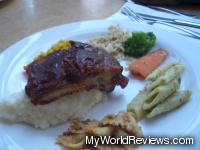 More Entrees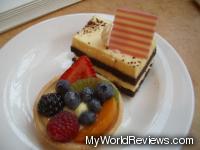 Desserts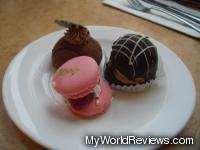 More Desserts
The cost for dinners is $19.99 - this is both on weekdays and weekends. Many buffets increase the prices for the weekend, but the Flamingo has constant prices all week.
review contents
Dress
Reservations
Cost
related reviews
More reviews in Las Vegas, NV
Been here? Want to write your own review of this restaurant?
linked reviews