Your Reviews About the World
MyWorldReviews.com
Let the world know what you think
Osso Buco
New York, New York, United States
88 University Place
New York, New York, United States
212-426-5422
ossobuco2go.com
View Map
Overall Experience:
5 / 10
Date Visited:
Sunday, December 14, 2008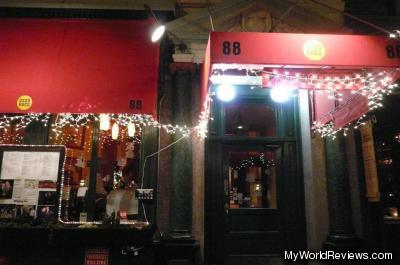 Osso Buco near Union Square
Cuisine:
Family Style Italian
Seating:
Indoor Dining Room
Osso Buco is a family style Italian restaurant. Their menu offers individual-sized servings, and family-style servings. Each family-style serving feeds 1.5 people, so it's a pretty good deal if you're with a group of people. We ordered 3 entrees and a salad between 5 people. The food was ok - it either tasted too bland or too salty. Our selection wasn't the best. It's possible other items would be better.
Dress
Casual. Some people were dressed up a little bit, but jeans and a t-shirt would be fine. The restaurant had a bit of a formal interior decor.
Cost
Our meal came out to about $20 per person.
Service
The service was a bit above average. Our water glasses were always kept full, and all our food came out together.
Reservations
I'm not sure if they take reservations, but when we arrived on a Sunday evening, there was no wait.
Items Ordered
Bread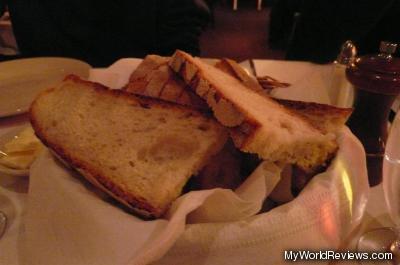 Free Bread
Some white bread and butter was served before the food arrived. It was a pretty plain white bread, and had a pretty thick crust.
Mixed Green Salad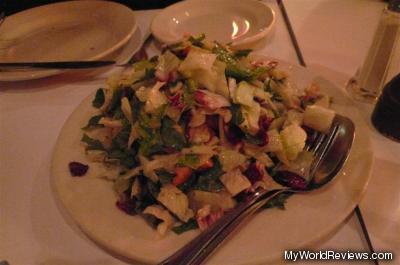 Mixed Green Salad
lettuce, tomato, onion, Italian dressing
Cost:
$5.95 single, $9.95 family
The salad was average. It was mostly lettuce, with a pretty good dressing. The family size was enough to share between 5 people.
Cappellini Primavera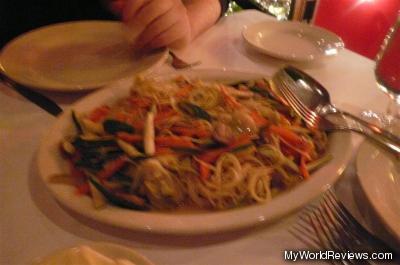 Cappellini Primavera
Angel hair pasta served with seasonal vegetables in olive oil and garlic
Cost:
$12.95 single, $19.95 family
This pasta was missing a tomato sauce. It was quite bland. The only flavor was a salty taste. There were a reasonable number of vegetables though, so that was good.
Roasted Chicken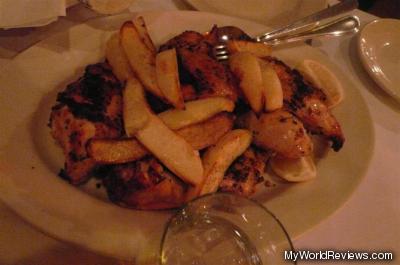 Roasted Chicken
Marinated whole chicken with garlic, rosemary and served with fried steak potatoes
Cost:
$13.95 single, $23.95 family
The chicken was a bit dry, and not very flavorful (except for the outside). The steak fries were decent, but there weren't very many to share between 5 people. We each got about 2 fries. They were thick cut potatoes.
Rigatoni With Sausage and Broccoli Rabe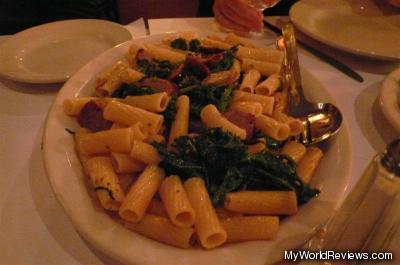 Rigatoni With Sausage and Broccoli Rabe
Italian sausages sauteed with olive oil and garlic sauce
Cost:
$14.95 single, $25 family
I'm not sure what broccoli rabe is, but it seemed more like spinach than broccoli, so it's probably the leaves of broccoli. I didn't really like the sausage in this dish - it didn't blend well with the giant pasta. This dish also could have used more broccoli.
review contents
Dress
Cost
Service
Reservations
Items Ordered
Bread
Mixed Green Salad
Cappellini Primavera
Roasted Chicken
Rigatoni With Sausage and Broccoli Rabe
related reviews
More reviews in New York, NY
Been here? Want to write your own review of this restaurant?