Your Reviews About the World
MyWorldReviews.com
Let the world know what you think
Olive Garden
Burbank, Illinois, United States
W 77th Pl
Burbank, Illinois, United States
60459
708-636-9555
olivegarden.com
View Map
Overall Experience:
8 / 10
Date Visited:
Thursday, September 27, 2007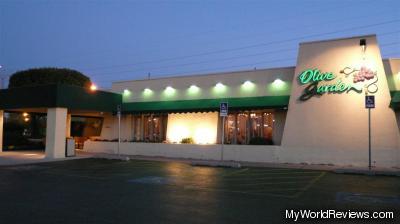 Seating:
Main Dining Room (Non-Smoking Section)
The Olive Garden is a chain of restaurants in North America. They serve americanized Italian food of a medium quality. They're more upscale than somewhere like East Side Mario's, but not a super-high-end Italian restaurant.
At the end of the meal, rather than mints or candies, the restaurant provides mint chocolates - these mint chocolates are excellent, and are another great reason to go to the Olive Garden.
Cost
Appetizers are $5-$10. Entrees are $11-$20.
Dress
Shorts and a t-shirt are probably fine, but you may feel more comfortable in nice jeans.
Items Ordered
Garden-Fresh Salad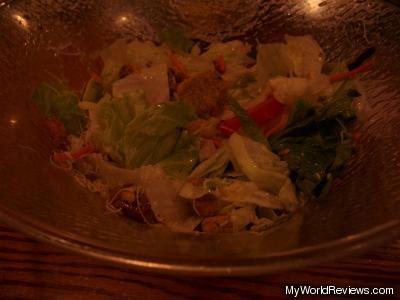 Garden-Fresh Salad
Cost:
Included with entrees
The house garden fresh salad is one of the main reasons I keep going back to Olive Garden. Their garden-fresh salad is quite good. It's mostly lettuce, but it is served with the house vinaigrette dressing. The dressing is quite good, and really completes the salad. In addition to lettuce, the salad is served with a few olives, and one or two tiny slices of tomatoes. A few more veggies would be nice, but the salad is pretty good anyway. If you finish all the salad, you can request more.
Bread Sticks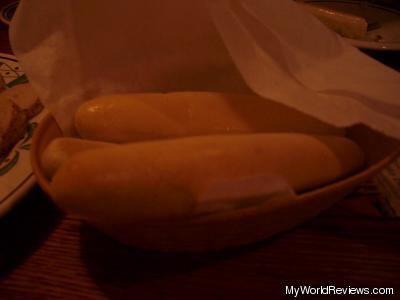 Bread Sticks
Cost:
Included with entrees
The garlic sticks are also included with entrees, along with the garden fresh salad. Along with the salad, you can request additional bread sticks if you finish the sticks they give you. The bread sticks are "just OK". There's nothing special about them - it is a plain white bread stick, with a light coating of butter and garlic powder on top.
Smoked Mozzarella Fonduta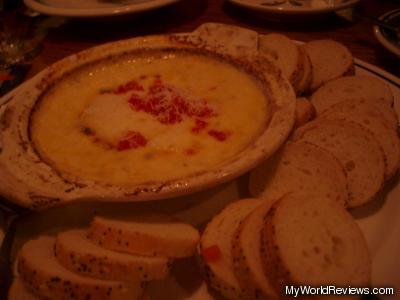 Smoked Mozzarella Fonduta
Oven-baked smoked mozzarella, provolone, parmesan, and romano cheese. Served with Tuscan bread.
This appetizer is a melted shallow dish of cheese, served with a few slices of bread. I felt that there could have been a few more bread pieces, since there weren't enough bread pieces to finish up all the cheese. The baked cheese had a very strong cheese flavor, so hopefully you enjoy strong cheeses if you order this appetizer.
Garlic-Herb Chicken con Broccoli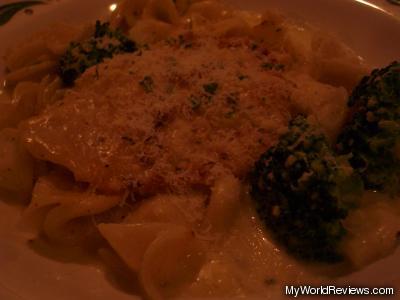 Garlic-Herb Chicken con Broccoli
Rosemary-seasoned chicken breasts sauteed with fresh broccoli in a garlic cream sauce over orecchiette pasta.
The picture of the entree shown here is actually one half portion. This entree was shared with another member of the group, and the Olive Garden was kind enough to split the entrees for us.
Unfortunately, the Olive Garden only serves white pasta - I would have found this dish more enjoyable if the pasta was whole wheat. There was also a lack of broccoli - I felt that a little less chicken and a little more broccoli would have improved this dish. (I do love my broccoli - others may only enjoy a couple pieces of broccoli with their chicken).
The garlic cream sauce was quite good (but heavy) - there was a nice hint of garlic, but it wasn't overly garlicy as I had feared. The chicken was breaded and fit very well with the cream sauce.
Black Tie Mousse Cake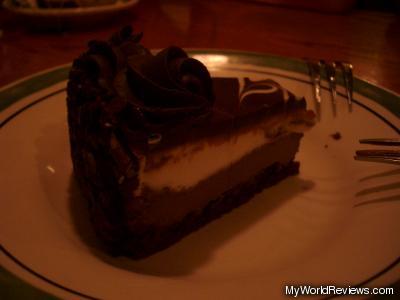 Black Tie Mousse Cake
Rich layers of chocolate cake, dark chocolate cheesecake and creamy custard mousse.
This was quite a good mousse cake. It was adequately chocolatey, and the cheesecake added a very nice touch. The mousse cake was very soft - even the base of the cake was more soft than crunchy. This was a very nice dessert.
review contents
Cost
Dress
Items Ordered
Garden-Fresh Salad
Bread Sticks
Smoked Mozzarella Fonduta
Garlic-Herb Chicken con Broccoli
Black Tie Mousse Cake
related reviews
More reviews in Burbank, IL
Been here? Want to write your own review of this restaurant?
linked reviews