Your Reviews About the World
MyWorldReviews.com
Let the world know what you think
Olive Garden
Sarasota, Florida, United States
4900 S Tamiami Trail
Sarasota, Florida, United States
34231
941-923-3136
www.olivegarden.com
View Map
Overall Experience:
7 / 10
Date Visited:
Friday, February 1, 2008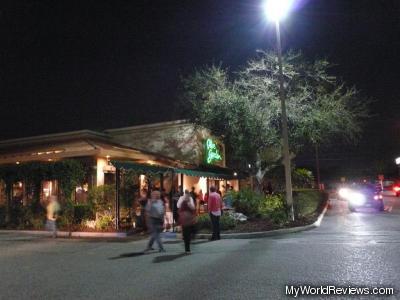 The Olive Garden is a chain of restaurants offering Italian style food in several locations around the US (read a review of Olive Garden near Chicago). It is a great family restaurant. Entrees come with unlimited salad and garlic bread sticks.
Cost
Entrees are around $15.
Dress
Most people were dressed quite casual, although some were wearing slightly nicer shirts. Jeans and a t-shirt are common.
Service
Restaurants in Sarasota at this time of the year seem to be very busy, even later in the evening. We waited about 45 minutes before getting a table. Once we were seated the waitress was very accommodating and tried to get the food to us as quickly as possible.
Parking
This location is located in a plaza with plenty of parking around the restaurant.
Items Ordered
Garden-Fresh Salad and Bread Sticks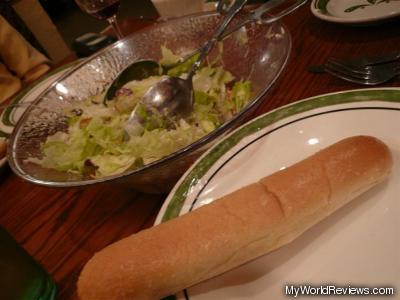 Garden Fresh Salad
The bread sticks are served warm and brushed with garlic butter. Otherwise, they are just a plain white bread. The garden fresh salad is very good. It is mostly lettuce but has an excellent dressing.
Tuscan Garlic Chicken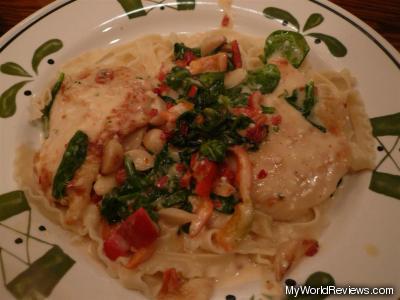 Tuscan Garlic Chicken
Pan-seared chicken breasts with roasted garlic, red peppers and spinach in a white wine and garlic cream sauce, tossed with curly fettuccine.
This was a delicious creamy dish. It appeared to be new, and was heavily advertised on the menu. It looked delicious, so we had to try it. (I heard many other people also ordering it).
The pan-seared chicken was very good and there were a fair amount of peppers and spinach in the dish. There were many whole roasted garlic cloves - probably an entire bulb's worth. The roasted garlic, and even the garlic sauce was quite garlicky - beware of garlic breath afterwards!
review contents
Cost
Dress
Service
Parking
Items Ordered
Garden-Fresh Salad and Bread Sticks
Tuscan Garlic Chicken
related reviews
More reviews in Sarasota, FL
Been here? Want to write your own review of this restaurant?
linked reviews