Your Reviews About the World
MyWorldReviews.com
Let the world know what you think
Nicoletta Pizzeria
New York, New York, United States
160 Second Ave
New York, New York, United States
10003
212-432-1600
www.nicolettanyc.com
View Map
Overall Experience:
7 / 10
Date Visited:
Saturday, September 1, 2012

Nicoletta Pizzeria
Seating:
Outdoor Sidewalk Table
Nicoletta is a pizza spot in the east village of NYC. The restaurant features some unusual pizzas and a few other dishes. The pizzas are a little bigger than personal sized. With an appetizer, it is perfect to share for two people.
They had some clever designs for placing the pizza at your table. Each table had a hole built in that fit the pizza stand, and the stand was magnetic so that you pizza platter would not slide off when serving.
Dress
Casual
Cost
Most pizzas were around $20 and feed 1-2 people each.
Reservations
They do not take reservations, but we had no problem getting a table on a Saturday evening.
Items Ordered
Special Appetizer - Melanzane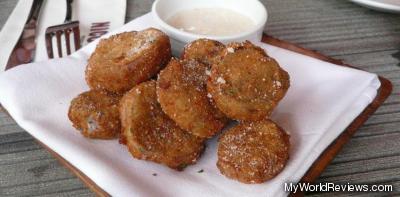 Special Appetizer - Eggplant
This appetizer was the special for the day.
The eggplant was a baby eggplant, sliced, battered, and fried. It was delicious and served with a mild creamy sauce.
Polpette
Polpette
brick oven baked neopolitan meatballs, pomodoro, bread crumbs
The meatballs were served in a hot dish covered in cheese and tomato sauce. The sauce was really flavorful and was also great for dipping the bread in.
Pizza - Parmigiana and Cacciatore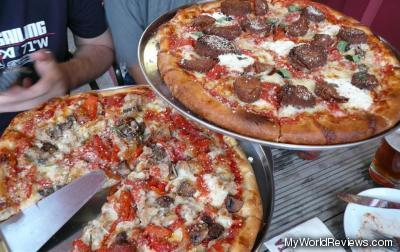 Parmigiana and Special Pizza
Parmigiana - fior di latte, marinated tomatoes, ricotta, fried eggplant, pomodoro, garlic, basil Cacciatore - special for the day
The Parmigiana had the same eggplants on it as the melanzane appetizer. The cheese was mild and creamy making this a light tasting pizza.
The Cacciatore had chicken meatballs on it that were a bit too salty. It also had roasted tomatoes and mushrooms.
The pizzas had a crispy crust, but not a thin crust.
review contents
Dress
Cost
Reservations
Items Ordered
Special Appetizer - Melanzane
Polpette
Pizza - Parmigiana and Cacciatore
related reviews
More reviews in New York, NY
Been here? Want to write your own review of this restaurant?