Your Reviews About the World
MyWorldReviews.com
Let the world know what you think
Mirror Chapel Concert
Prague, Prague, Czech Republic
Mariánské náměstí 4
Prague, Prague, Czech Republic
+420 221 666 311
View Map
Overall Experience:
8 / 10
Date Visited:
Tuesday, March 11, 2008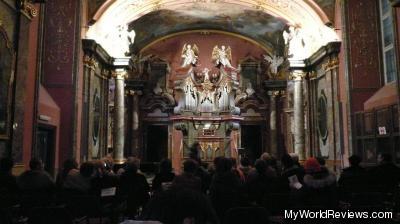 Inside the Mirror Chapel for the concert
The Mirror Chapel is located inside the Klementinum, in Prague. Like most churches, there are often musical performances here in the evening. The seating was divided into three sections (the first two rows were VIP seating, then a few rows of general admission, and a few rows of cheaper seats). Other than the three sections, seating was not assigned. The staff here were not flexible with their ticket pricing. This chapel was heated, which was nice since it was a cool evening.
The chapel was quite nice, but definitely smaller than a church. The organ was also quite small, which was disappointing. The reason we chose this concert was because it was an "organ concert". While it did feature some excellent organ playing, the organ itself was pretty small, and didn't have the same "loud and powerful" feel that you typically expect from a church organ.
The music selection for this concert was alright. The main reason we went was to hear Toccata and Fugue in D Minor. The piece was performed wonderfully, but could have been more enjoyable with a larger organ.
Cost
As we learned on our Free Prague Walking Tour, the best way to get concert tickets is to go 10 minutes before the show starts and try to get a discount. Apparently, you can usually get a steep discount. We tried the day before for a Concert in the Church of St. Salvator, and were successful! Unfortunately, the sales people for this concert were only willing to give us a 100Kc discount per person.
Seating was divided into three areas. The first two rows were VIP seating (for 700 Kc per ticket). The next few rows were general seating (for 600 Kc per ticket), and the last few rows were the cheapest seats, for 500 Kc.
Dress
The concert is mostly tourists, and is very casual. Whatever clothes you have on during your day of visiting the city is fine.