Your Reviews About the World
MyWorldReviews.com
Let the world know what you think
Louvre Museum
Paris, Ile-de-France, France
Paris, Ile-de-France, France
014-020-8458
www.louvre.fr
View Map
Overall Experience:
8 / 10
Date Visited:
Monday, September 7, 2009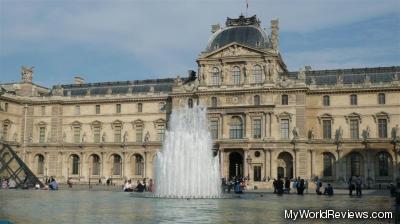 The Louvre Museum
The Louvre is the largest fine art history museum in France. The museum is housed inside the Palais Du Louvre, where the Kings of France once lived. The building is spectacular - both in it's size and beauty. Many of the rooms are art pieces themselves with painted ceilings and decorated walls. The museum contains several famous pieces, such as the Mona Lisa and the Venus De Milo. There are lots of impressive paintings and sculptures, as well as pots and archeological pieces. The foundations of the old Louvre Castle can be seen under the current Louvre Palace, and are available to walk around.
We tried to get on an English tour at the museum. We were told we could sign up "on the other side of the room" for 5€, but we could not find any place where to sign up, and nobody else was able to help us. I think a tour could be very useful here in getting more out of your visit. Audio guides are available, but we did not try them.
Estimated Visiting Time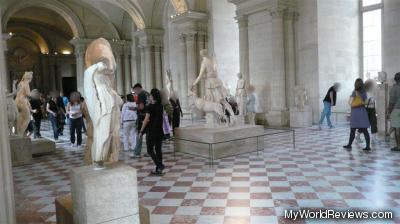 Greek & Roman Sculptures
You could spend years here to see everything. You could easily spend the whole day at the museum, but it can be quite tiring. We spent 2 hours and only walked through a small portion of the museum. You could probably see the highlights in about an hour, they are fairly well marked.
Getting into the museum can also take some time. There are often lines to get through the security check and to get tickets. You can purchase tickets online in advance.
Cost
The Louvre is free on the first Sunday of each month. The museum can be fairly crowded on a normal day, I imagine it would be much busier on a free day. The museum is also free for children and EU citizens under the age of 26. Admission is also free with the Paris Museum Pass. Regular admission costs 9€.
review contents
Estimated Visiting Time
Cost
related reviews
More reviews in Paris, Ile-de-France
Been here? Want to write your own review of this attraction?