Your Reviews About the World
MyWorldReviews.com
Let the world know what you think
Lobkowicz Palace Cafe
Prague, Prague, Czech Republic
Jirska street 3
Prague, Prague, Czech Republic
View Map
Overall Experience:
7 / 10
Date Visited:
Tuesday, March 11, 2008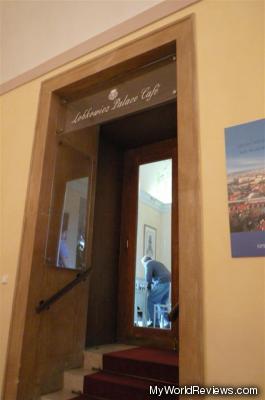 The Lobkowicz Palace Cafe is a restaurant that's located inside Lobkowicz Palace. If you pay for entrance to the palace (which is a good idea - it's excellent), you get a 10% discount at the cafe. The cafe is close, so it's convenient. The quality of the food is also quite good, for Prague. We weren't overly impressed with the food in Prague, but this cafe is one of the better meals we had while in the city.
If the weather is nice, sit outside - there's an excellent view of Prague from the balcony!
Cost
The Lobkowicz Palace Cafe is more expensive than an average restaurant in Prague, but I also found the food to be more enjoyable.
Dress
Fairly casual - jeans and a t-shirt is fine.
Service
Like most restaurants, this is a "seat yourself" place, so you can just walk in and sit down at any free table. There was nothing noteworthy about the service here. Our waiter spoke English, and the menu was also in English.
Items Ordered
Bread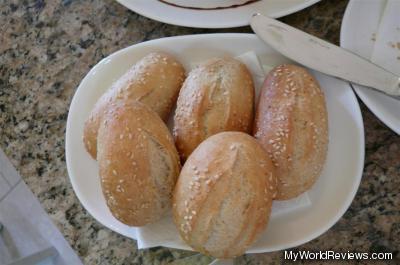 This bread was brought to our table after we had placed our order. The bread tasted fresh, which was a nice surprise. Most of the other restaurants we ate in offered bread that was hard, and probably a little stale.
Mixed Greens Salad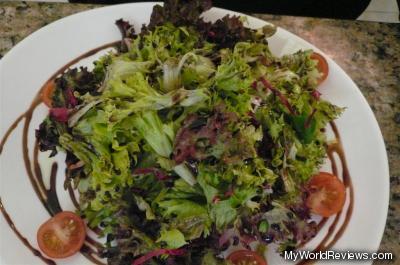 Mixed Greens Salad
Mixed greens in a light balsamic vinaigrette
The mixed green salad was quite large - easily large enough for two people to share as a small appetizer. The salad had a nice selection of tasty greens. The dressing on the salad had a nice hint of sweetness.
Green Pea Soup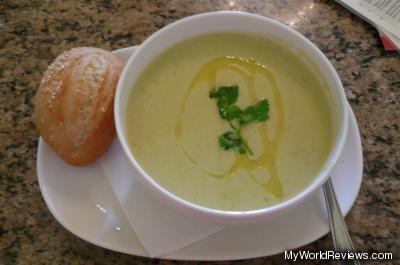 Green Pea Soup
Cost:
Usually 85 Kc, but ordered as part of a fixed price menu (which also included the following grilled chicken breast, and cheesecake) for 295 Kc.
This soup was simply spectacular. It's one of the best soups I've ever had. It was easily the best thing about eating at this Cafe. The soup tasted just like real cream, with a slight hint of vegetable. The bun it was served with was plain (similar to the other buns that were brought to our table), but dipping it in the soup made it much better.
Grilled Chicken Breast with Potatoes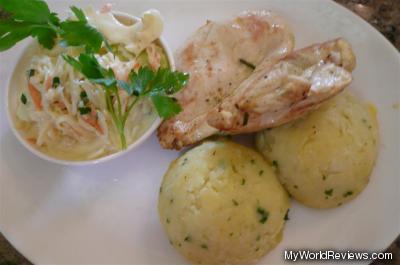 Grilled Chicken Breast with Potatoes
Cost:
This was also included in the 295 Kc fixed price menu.
After such an outstanding soup, this dish was disappointing. The cabbage in mayonnaise was good, but not very exciting. The chicken was also quite plain, and a disappointment. It lacked any kind of flavor. The mashed potatoes were nice and creamy.
Homemade Cheesecake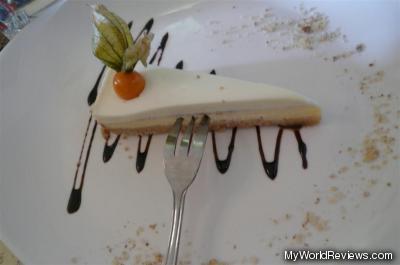 Homemade Cheesecake
Cost:
This was the dessert for the 295 Kc fixed price menu.
The piece of cheesecake was quite small. The orange fruit on top tasted a little bit like a kiwi, which was unexpected. The cheesecake had a mild spiced flavor, and was nice and creamy. I enjoyed the cheesecake, and wished there was more of it ;)
review contents
Cost
Dress
Service
Items Ordered
Bread
Mixed Greens Salad
Green Pea Soup
Grilled Chicken Breast with Potatoes
Homemade Cheesecake
related reviews
More reviews in Prague, Prague
Been here? Want to write your own review of this restaurant?
linked reviews