Your Reviews About the World
MyWorldReviews.com
Let the world know what you think
John Lennon Wall
Prague, Prague, Czech Republic
Overall Experience:
7 / 10
Date Visited:
Monday, March 10, 2008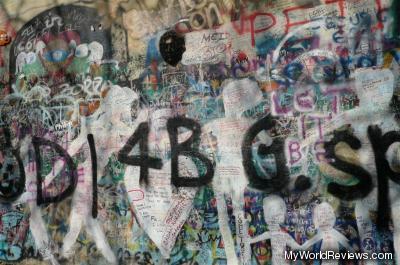 The John Lennon Wall
The John Lennon Wall is a wall in Prague that people write poems and other graffiti on. During the communist era, the wall was a source of big controversy. Now, it's a memorial to John Lennon, freedom, and ideas of peace and love. It's one of the only places in Prague that you're permitted to write on the wall, and lots of people do!
Cost
This is a free attraction. The wall is just out on the street, so you can just walk up to it.
Estimated Visiting Time
It's probably not necessary to spend more than 3-5 minutes looking at the wall. Even if you leave a message, it will probably only take a couple minutes.
review contents
Cost
Estimated Visiting Time
related reviews
More reviews in Prague, Prague
Been here? Want to write your own review of this attraction?