Your Reviews About the World
MyWorldReviews.com
Let the world know what you think
Hotel **** U Zlateho Stroma
Prague, Prague, Czech Republic
Karlova 6
Prague, Prague, Czech Republic
110 00
+420 222 220 441
zlatystrom.cz
View Map
Overall Experience:
4 / 10
Date Visited:
Sunday, March 9, 2008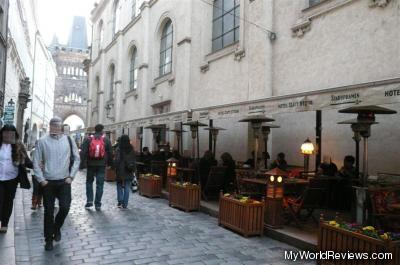 Hotel **** U Zlateho Stroma is a hotel that has a restaurant outside on Karlova Street. It's located right between (and very close to) the Old Town Square and the Charles Bridge. We chose to eat here because the location was good, and their menus had English on them. Unfortunately, we found the food and service to be disappointing. This was our first meal in Prague, and we found this to be a recurring trend - the Czech food was disappointing almost everywhere we ate.
Dress
The outdoor patio appeared fairly casual. Whatever you're wearing as you walk by is fine. Indoor dining (if there was any) may be different.
Cost
Most of the prices were fairly reasonable. Soup was only 69 Kc, and beef goulash was 139 Kc. Water was much more expensive at 60 Kc/bottle.
At the end of the meal, when we were brought our bill, a 10% tip was added for us.
Service
Like most restaurants in the area, this is a "seat yourself" restaurant. After being seated, it took some time for us to be noticed. The waiters weren't very good with English, although we did manage to place our order successfully. We were told that a 500mL bottle of water cost 60 Kc (or at least that's what we think we were told). We were then brought a 250mL bottle of water, which was quite small, and quite expensive! It was also brought out with the seal broken.
Items Ordered
Bread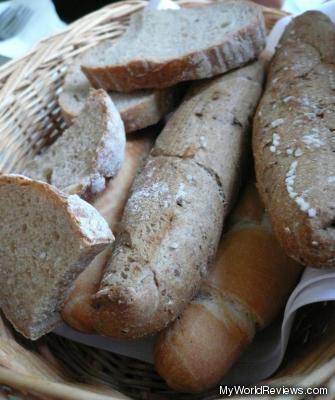 Bread
This selection of bread was brought to our table after we placed our order. It looked great, and we were disappointed to discover that the pieces of bread were stale and very dry.
Home Made Potato Soup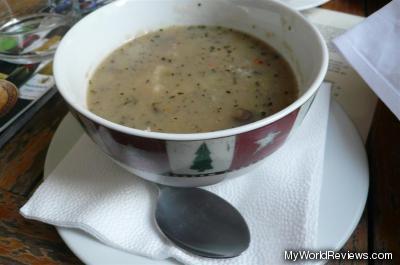 Home Made Potato Soup
This soup was the best item that we ordered here, despite it being very salty. It contained some potato chunks, and also a couple pieces of other vegetables (beans, carrots, mushrooms, and cauliflower). The soup also contained lots of herbs, which gave it a nice flavor.
Beef Goulash with Herb Dumplings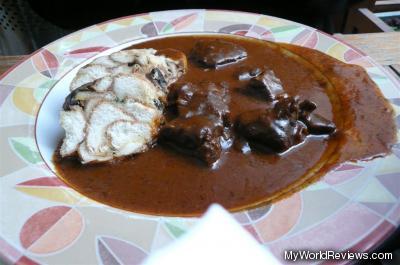 Beef Goulash with Herb Dumplings
The goulash was just mediocre, and the herb dumplings were also disappointing. The beef in the goulash was very fatty and of poor quality, but the actual "meat" pieces that I found were actually pretty good and tender. The dumplings were more like pieces of bread that had been cut into small pieces. They were very dry. The gravy was very salty, but it served to moisten up the dumpling pieces to make them taste better.
review contents
Dress
Cost
Service
Items Ordered
Bread
Home Made Potato Soup
Beef Goulash with Herb Dumplings
related reviews
More reviews in Prague, Prague
Been here? Want to write your own review of this restaurant?
linked reviews
Prague Old Town Square
Charles Bridge