Your Reviews About the World
MyWorldReviews.com
Let the world know what you think
Home
New York, New York, United States
20 Cornelia Street
New York, New York, United States
10014
212-243-9579
homerestaurantnyc.com
View Map
Overall Experience:
7 / 10
Date Visited:
Friday, January 6, 2012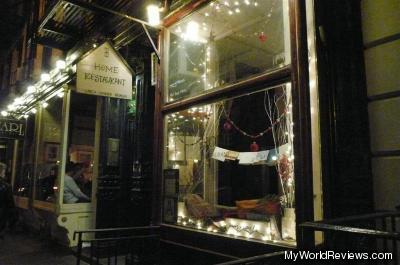 Home Restaurant
Home is a restaurant located in the west village of NYC. They're a typical west village restaurant with dim lighting, a homely rustic feel, and good quality food. The restaurant prides itself on choosing local ingredients.
I thought the tables were squished too tightly together - there's hardly any space at all between the tables. That's pretty typical in NYC, but Home was worse than most. Fortunately, not all the tables were full when we visited so we had an acceptable amount of room.
Dress
Smart casual
Cost
Most of the entrees were around $20
Reservations
We arrived around 7pm on a Friday evening without a reservation and didn't have a problem getting a table. It got a bit busier around 8pm, but there were still tables available.
Items Ordered
Today's Soup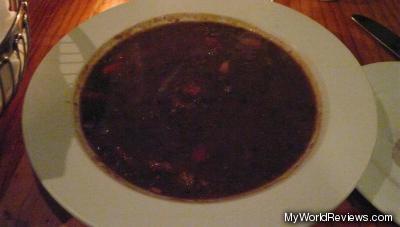 Soup
The soup of the day was a lentil soup with pieces of chicken and bacon. It had a hearty rich feel and tasted mostly like lentil soup with a hint of smokiness. It was very salty and also quite filling.
Arugula Salad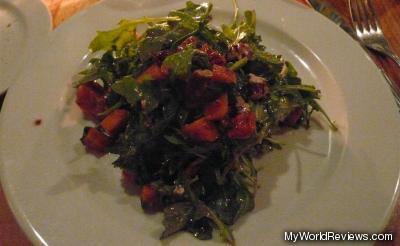 Arugula Salad
Butternut squash, rosemary pecans, goat cheese, pomegranate vinaigrette
The arugula salad was a pretty good salad. There was a decent amount of squash, pecans, and cheese that helped keep each bite interesting. The squash and pecans paired nicely with the dressing and resulted in a very sweet salad.
Warm Farro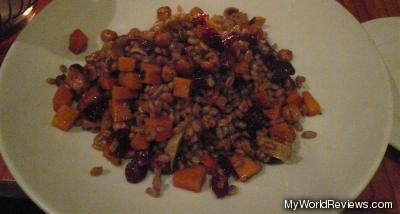 Warm Farro
Wild mushrooms, cranberries, pumpkin, spiced hazelnuts, rosemary vinaigrette
Farro seems to imprecisely refer to different types of grains depending on who you ask. In this dish, the farro was just whole kernels of wheat. The grains were cooked until soft and mixed with squash, cranberries, and hazelnuts. The dish was very oily. Although it was good, it wasn't one of my favorites. It didn't feel as hearty as the pork chop, but all the oil prevented it from being a light alternative.
Molasses Pork Chop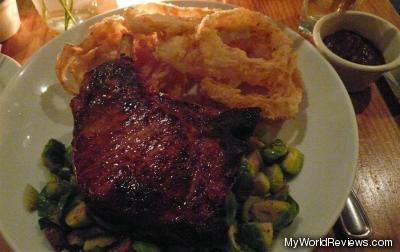 Pork Chop
Brussel sprouts, bacon, buttermilk fried onion rings
This dish was quite good, and the brussel sprouts and onion rings made it feel like a 'whole meal'. Unfortunately, I found the pork to be too dry. It would have been perfect if it were served with a sauce, but was lacking on its own. The bacon gave the brussel sprouts a nice salty taste, and the onion rings were very soft and flaky. They came with a curried ketchup.
review contents
Dress
Cost
Reservations
Items Ordered
Today's Soup
Arugula Salad
Warm Farro
Molasses Pork Chop
related reviews
More reviews in New York, NY
Been here? Want to write your own review of this restaurant?