Your Reviews About the World
MyWorldReviews.com
Let the world know what you think
Eilat Promenade
Eilat, HaDarom, Israel
Overall Experience:
5 / 10
Date Visited:
Monday, March 24, 2008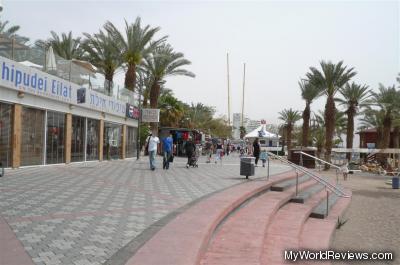 The Eilat Promenade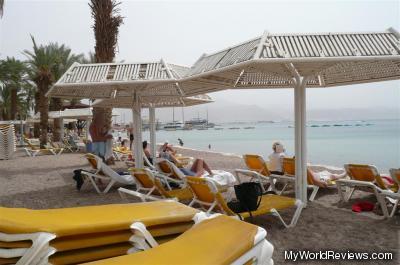 A view of the Red Sea from the promenade
The Eilat Promenade is one of Eilat's biggest "attractions". It's a promenade approximately 2km long that goes along the Red Sea. Many of the larger hotels (such as the Moriah Sheraton, where we stayed) are located right on the promenade. The promenade also contains a number of retail stores, restaurants, bars, and attractions.
Since the promenade is located right on the water, sometimes the part of the promenade next to the water is beach, instead of retail. Some parts of the beach are semi-private (reserved for hotel guests only), and other parts of the beach are for public swimming.
I was surprised how few restaurants there were along the promenade. There are some American chains (pizza hut, KFC), but most of the restaurants are more expensive, slightly upscale restaurants. You would think that a grill that sells hamburgers would be easy to find, but the only one we found was the Boston Fish & Grill, and it was also slightly upscale and expensive. Retail is definitely the dominant type of store along the promenade. Some of the retail stores are high-end, and some are very low-end "tents" with people trying to sell souvenirs to tourists.
At night time, we had heard that the beach comes alive with dance parties. At the time we visited, we only saw a couple bars that were playing music, and they were completely empty. We went for a more thorough walk through the surrounding area, and we did manage to find a couple bars that were playing music, but nothing that we wanted to participate in. I was shocked at how empty all the bars were along the beach. The beach is a great place for a dance party! It could just be that we visited at the wrong time of the year, but I doubt it. There were lots of people walking on the promenade during the day, but they all disappeared at night-time (between 11:00pm and 1:00am).