Your Reviews About the World
MyWorldReviews.com
Let the world know what you think
Eat
London, London, United Kingdom
68 Oxford St
London, London, United Kingdom
W1D 1BN
020 7636 8309
www.eat.co.uk
View Map
Overall Experience:
6 / 10
Date Visited:
Saturday, February 26, 2011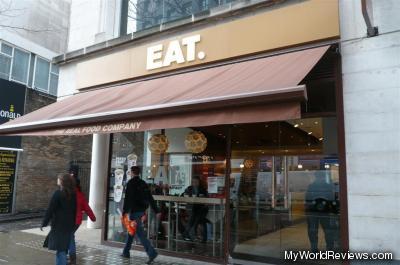 Eat on Oxford St
Eat is a chain of cafe-style restaurants in London. They have prepared sandwiches, salads, soups, and pastries. The food is decent and reasonably priced. It's a good place to grab a quick lunch.
Dress
Casual
Cost
Soups and sandwiches were around £4 - £5.
Service
Most items are available to choose from in a fridge. After grabbing what you want, you pay at the counter and then sit and eat at an empty table.
Items Ordered
Goyza Dumpling Soup and Mexican Chicken Wrap
Dumpling Soup and Mexican Chicken Wrap
wrap: roast chicken breast, tomato salsa, guacamole, rocket leaves, creme fraiche, red peppers, sweetcorn, cheddar cheese, turtle beans, red onion, coriander and chipotle powder on a plain tortilla
Cost:
£4.75 for soup; £3.59 for wrap
The dumpling soup was located in the fridge as just a cup of vegetables and dumplings. After bringing it to the counter, they poured a hot broth into the cup. The broth was quite spicy. The vegetable dumplings were pretty plain, but made the soup more filling. The wrap tasted pretty good, but a little bit soggy and small.
review contents
Dress
Cost
Service
Items Ordered
Goyza Dumpling Soup and Mexican Chicken Wrap
related reviews
More reviews in London, London
Been here? Want to write your own review of this restaurant?