Your Reviews About the World
MyWorldReviews.com
Let the world know what you think
Concert in the Church of St. Salvator
Prague, Prague, Czech Republic
Overall Experience:
8 / 10
Date Visited:
Monday, March 10, 2008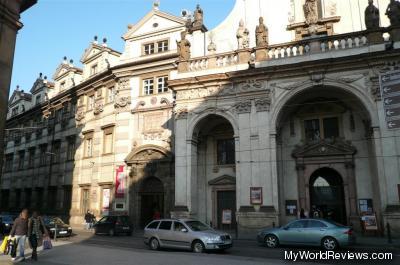 Outside of the Church of St. Salvator
After spending some time in Prague, we discovered that concerts are hugely popular. A few nights a week, each church hosts a different concert. During the day, there are always lots of people outside trying to promote their concert by telling you about it, or handing out fliers.
This concert was located in the Church of St. Salvator, right across the street from the Charles Bridge. The church had signs advertising "heated seats". The church itself was not heated, so it was cool at this time of the year. The seats had pads on them that used electric heating to keep them warm. We used the warm pads to keep our hands warm during the concert. There was no assigned seating, although the first two rows were roped off.
This concert consisted of a string quartet performing an excellent selection of classical pieces. The acoustics appeared to be pretty good; I had no difficulty hearing from the third row. The church was more than half empty, so most of the people got very good seats.
The concert lasted one hour, and pictures/video were permitted.
Cost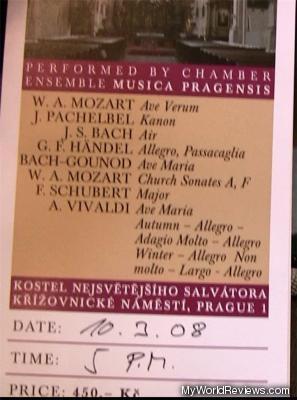 Concert Program
Earlier in the day, we had gone on a Free Prague Walking Tour. Our tour guide informed us that the best way to get tickets for a concert was to go up 10-15 minutes before the concert started, and try to get discounted tickets. She said you could usually get the tickets 50-75% off.
We decided to give it a try! We waited until 4:50p, and were asked if we wanted tickets to the concert as we walked by. We asked if we could get a discount for the two of us, since the show was about to start. The sales person spoke pretty good English, but wasn't in charge of ticket disbursement, so he brought us over to another guy who also spoke good English. The tickets were supposed to be 450 Kc each. After some negotiating, he said we could get two tickets for 250 Kc each. We stood around for about 20 seconds "thinking about it" while he helped someone else, then we pulled out 400 Kc and offered 400 Kc for two tickets. He agreed, and gave us the tickets.
Dress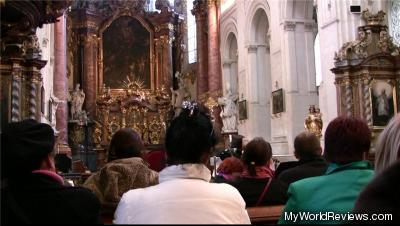 Inside the church, listening to the concert
The concerts were fairly informal, and they probably are mostly tourists. Whatever casual clothes you're wearing during the day are fine.
review contents
Cost
Dress
related reviews
More reviews in Prague, Prague
Been here? Want to write your own review of this attraction?
linked reviews
Charles Bridge
Free Prague Tours