Your Reviews About the World
MyWorldReviews.com
Let the world know what you think
Brainwash Cafe & Laundromat
San Francisco, California, United States
1122 Folsom St.
San Francisco, California, United States
94103
415-255-4866
www.brainwash.com
View Map
Overall Experience:
8 / 10
Date Visited:
Wednesday, February 18, 2015
Brainwash Cafe
Brainwash Cafe is one of my favorite breakfast spots to go to in San Francisco. They have tasty food at reasonable prices. Their kitchen opens at 8am, but they have bagels/muffins available earlier.
Cost
Very reasonable - most items are less than $10
Service
Leisurely - just go to the counter to order, then wait until your food is ready.
Items Ordered
Scramble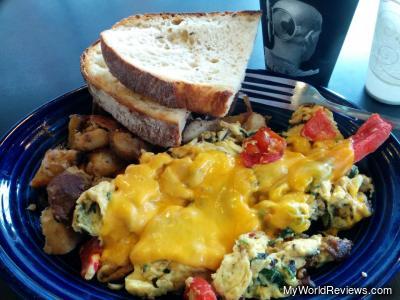 Scramble
Three-egg scramble (or omelet) with thick-sliced whole wheat sourdough toast, home fries or salad
Cost:
$6.95 + $0.50 per filling item
This is my favorite breakfast item. Pictured here, the scramble includes spinach, cheddar cheese, bacon, and peppers. It's served with a thick piece of delicious sourdough bread and even tastier potatoes.
review contents
Cost
Service
Items Ordered
Scramble
related reviews
More reviews in San Francisco, CA
Been here? Want to write your own review of this restaurant?