Your Reviews About the World
MyWorldReviews.com
Let the world know what you think
Boston Fish & Grill
Eilat, HaDarom, Israel
Royal Beach Hotel Promenade
Eilat, HaDarom, Israel
08-6333007
boston-grill.co.il
View Map
Overall Experience:
7 / 10
Date Visited:
Monday, March 24, 2008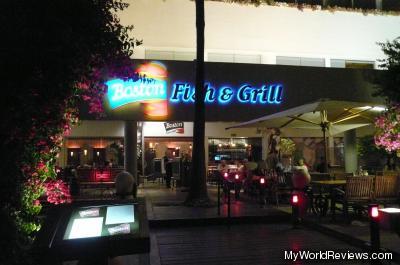 The Boston Fish and Grill is a restaurant located along the promenade in Eilat, Israel. It's located on the east side of the promenade, across the bridge. We visited here because it was one of the few restaurants along the promenade that offered hamburgers (and we really felt like a hamburger).
We were surprised how difficult it was to find a burger restaurant on the beach. Even the Boston Fish & Grill wasn't quite on the beach, but it was close enough. It was on the promenade, near the Royal Beach Hotel.
Cost
Most restaurants along the promenade are more expensive than average. This one is no exception. Most main courses are between 70-100 NIS, and most appetizers are around 40 NIS.
Dress
The restaurant is a fairly casual family restaurant. Casual clothes are fine (although some people were dressed up a little bit in "smart casual" clothes).
Service
There was nothing note worthy about the service. Our waiter spoke English well enough, and we were also given an English menu.
Items Ordered
Boston Salad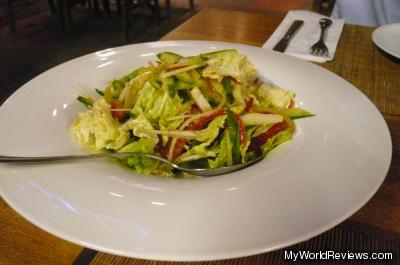 Boston Salad
Young green leaves and seasonal vegetables in a Dijon mustard vinaigrette
The Boston salad was mostly a lettuce salad. There was much more lettuce than other veggies. We found the lettuce pieces were too big to eat, too; we needed to cut them. The salad also contained a few pieces of tomato, cucumber, and peppers. The dressing on the salad was quite good - it had a "sweet and sour" flavor.
Boston Hamburger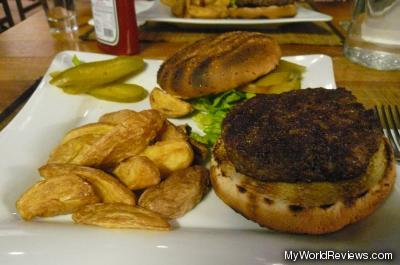 Boston Hamburger
Choice meat served with french fries and fresh vegetables
This hamburger was quite large and thick. It was probably around 300g. The burger was served with lettuce, tomato, and pickles. Ketchup was also available. The burger was served with some potato wedges on the side.
The burger itself wasn't spiced or flavored in any way. It was pretty plain, as far as burgers go, with just the usual grilled flavour. It was also quite expensive, but it's difficult finding places that sell hamburgers on the promenade - the few restaurants we found were all expensive.
The potato wedges were also quite plain. They were probably baked, and they didn't have any seasoning on them.
review contents
Cost
Dress
Service
Items Ordered
Boston Salad
Boston Hamburger
related reviews
More reviews in Eilat, HaDarom
Been here? Want to write your own review of this restaurant?