Your Reviews About the World
MyWorldReviews.com
Let the world know what you think
Army Museum and the Tomb of Napoleon
Paris, Ile-de-France, France
129 Rue de Grenelle
Paris, Ile-de-France, France
(33) 0810 11 33 99
invalides.org
View Map
Overall Experience:
6 / 10
Date Visited:
Monday, September 7, 2009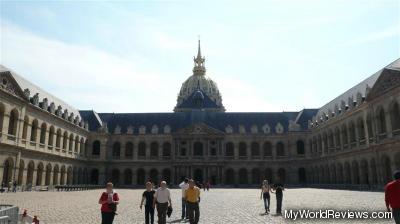 The Army Museum
Les Invalides is a complex of buildings that houses the Paris Army Museum (Musee de l'Armee) and the tomb of Napoleon. Although the two attractions are in different buildings, there is just one entry fee.
If you're in the area and this is the sort of thing you're interested in, it's worthwhile making a visit to the Army Museum. It is quite large, and has an extensive collection. Napoleon's tomb is a small room with a stone sarcophagus in it. It does not take long to visit.
The Army Museum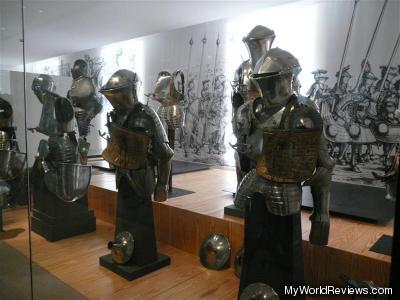 Some of the many suits of armor
The Paris Army Museum has a number of different sections, with each section being devoted to a particular time period or war. Unfortunately, we didn't have too much time to spend here, so we only visited the medieval sections. There were many (many!) old suits of armor and weapons.
We spent about 30 minutes in this one section. There weren't a lot of information displays, but it was still neat to look around and see all the artifacts.
The Tomb of Napoleon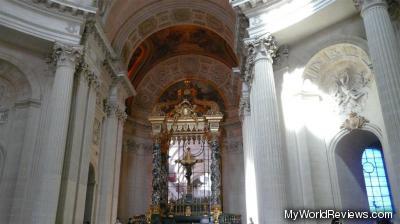 The Altar Inside Napoleon's Tomb
Napoleon's tomb is in a very nice building. It is easily recognizable by its gold dome. It is pretty small, but nicely decorated. In addition to the tomb, there are a few displays inside. When we were visiting, there was an exhibit on Napoleon's collection from Egypt, from an expedition that he commissioned. We spent about 15-20 minutes here looking at the exhibit and the tomb.
Cost
Admission is free with the Paris Museum Pass. Otherwise, admission is 8.50€
review contents
The Army Museum
The Tomb of Napoleon
Cost
related reviews
More reviews in Paris, Ile-de-France
Been here? Want to write your own review of this attraction?