Your Reviews About the World
MyWorldReviews.com
Let the world know what you think
Applebee's
New York, New York, United States
205 W 50th Street
New York, New York, United States
10019
212-262-2400
applebees.com
View Map
Overall Experience:
7 / 10
Date Visited:
Saturday, November 15, 2008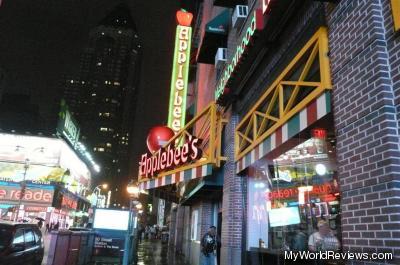 Applebee's in North Times Square
Seating:
Upstairs Dining Room
Applebee's is an American restaurant chain. They have two locations in Times Square, NY. We visited the northern location after seeing a Broadway show, and got a great spot by a window overlooking Broadway. Everything that we ordered here was quite good, but we just got an appetizer and some small desserts.
Dress
Very casual
Cost
Really not that bad, considering the location
Service
Quite good - we had a specific order that we wanted everything to come out in, and our server was able to get it right.
Items Ordered
Spinach and Artichoke Dip
Spinach and Artichoke Dip
Creamy spinach, tender artichokes and melted asiago and parmesan cheeses served warm with salsa and tortilla chips (1590 calories)
The spinach and cheese dip came with crispy fried nachos and salsa. It was a pretty typical spinach and cheese dip, so it was quite good.
Dessert Shooters
Strawberry Cheesecake and Chocolate Mousse Dessert Shooters
Strawberry Cheesecake: Classic cheesecake, graham cracker crumbs, strawberry sauce, and whipped cream (360 calories). Chocolate Mousse: Decadent oreo chunks, chocolate mousse and whipped cream make this a rich and creamy treat (440 calories)
We ordered two of these little dessert shooters, and they were both really good. The size was just perfect for a small dessert. The chocolate mousse was nice and creamy, and the cheesecake was a good cheesecake with a number of real strawberry pieces in it.
review contents
Dress
Cost
Service
Items Ordered
Spinach and Artichoke Dip
Dessert Shooters
related reviews
More reviews in New York, NY
Been here? Want to write your own review of this restaurant?