Your Reviews About the World
MyWorldReviews.com
Let the world know what you think
Yoshiya
Honolulu, Hawaii, United States
2255 Kalakaua Avenue
Honolulu, Hawaii, United States
96815
808-922-8877
sheraton-waikiki.com/de_yoshiya.htm
View Map
Overall Experience:
5 / 10
Date Visited:
Saturday, May 24, 2008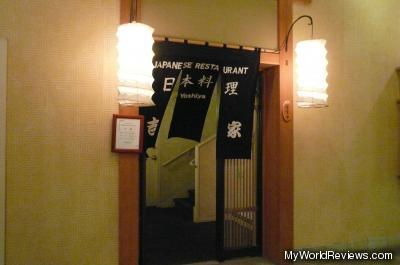 Yoshiya is a Japanese restaurant inside a Sheraton hotel. They serve sushi as well as other items. Their staff is bi-lingual, speaking both Japanese and English. The restaurant is located on the second floor of the hotel, so to get there, visitors will either need to take the stairs or an elevator. The restaurant had a couple private dining rooms for larger groups, but there were no windows or beach views.
I am not a sushi person (I ordered the steak), and I probably wouldn't come back here. I ordered a steak, and it was mediocre. The sushi-eating members of the group said the sushi was quite authentic, but they have had better.
Cost
Yoshiya is definitely on the expensive side. Most restaurants in Waikiki are quite expensive, but Yoshiya was one of the more expensive restaurants we visited. Most members in our group did not think it was worth the price.
Dress
Like most restaurants in Waikiki, fairly casual clothes are acceptable here. However, the restaurant may be slightly fancier than others. Shorts and a t-shirt are still fine, but there may be some people wearing clothes that are a bit nicer.
Items Ordered
Steak and 5 pcs. Jumbo Shrimp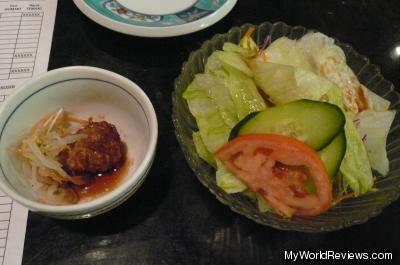 Steak Appetizer
Steak and 5 pcs. Jumbo Shrimp
Served with salad, appetizer, rice, miso soup, and pickled vegetables
The steak came with a small salad, and a little fish ball as an appetizer. The fish ball was quite bland, but it did have a slight fish taste. It wasn't very good.
Some of the pieces in the salad were too big to eat with chopsticks, and needed to be cut with knives. The salad had one piece of tomato and cucumber. The dressing was mostly vinegar, although it could be soy sauce. The salad was definitely pretty poor for salads.
The steak was alright. It was quite thin, and was definitely overcooked (it was ordered medium, but was served well done). It looked quite large, but wasn't actually that big. It was fairly thin, and had lots of fat. The veggies were actually a bit greasy.
The shrimp that were served with the steak were pretty plain tasting. They were mildly peppered and nicely cooked, but did not have much flavor.
Nigiri Regular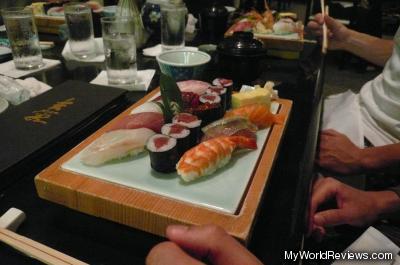 Nigiri Regular
9 pcs. of choice Nigiri sushi, 1 roll Tekka Maki, and Grilled Egg
From what the members of my group said about this sushi, it was quite authentic, but wasn't the best tasting sushi they have had.
review contents
Cost
Dress
Items Ordered
Steak and 5 pcs. Jumbo Shrimp
Nigiri Regular
related reviews
More reviews in Honolulu, HI
Been here? Want to write your own review of this restaurant?