Your Reviews About the World
MyWorldReviews.com
Let the world know what you think
Yard House
Honolulu, Hawaii, United States
226 Lewers Street
Honolulu, Hawaii, United States
96815
808-923-9273
yardhouse.com
View Map
Overall Experience:
8 / 10
Date Visited:
Saturday, May 24, 2008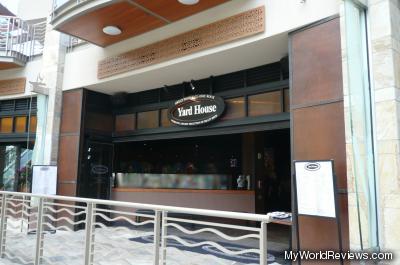 Seating:
Indoor Seating Area
Yard House is a restaurant/bar chain with a location in Waikiki. Their claim to fame is their huge beer selection - they have over 130 choices of beer on tap. We went to Yard House for their food, and were quite impressed with the quality, price, and the speed of service. It was definitely better food than I expected from a restaurant known for their beer. I would not hesitate to come back here.
This restaurant was quite popular. Several times in the evening when we walked by there was a long line of people standing outside waiting for a table. For lunch, there was no wait at all, although the place was still fairly busy.
Cost
Most things in Hawaii are on the expensive side - especially in Waikiki (since it's such a popular tourist destination). Yard House was quite reasonably priced, especially considering the quality of food they offered. Burgers were between $11-$12, and most entree salads were around $14.
Dress
Very casual
House Salad
House Salad
mixed greens, asian slaw, broccoli, bean sprouts, carrots, wontons, spicy peanut vinaigrette
The house salad was definitely more of an asian salad. It had a great asian flavor, with a bit of spice. The dressing also had a nice Thai flavor, and it was a bit spicy, too. This was a fairly large salad - it would be fine to share it between two people.
Sliders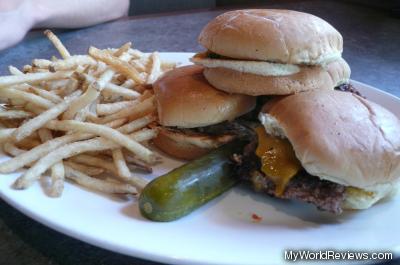 Sliders with classic cheddar cheese burgers
four mini burgers made from Naturewell Natural Angus Beef served with fries and pickle. Choose from: classic cheddar cheese & our house special sauce, or bearnaise fried onions & bearnaise sauce
The sliders were four mini burgers. The burgers are served well done by default. The burgers can either be the classic cheddar cheese type, or the bearnaise fried onions type. Both burgers are also available in larger form, but the mini burgers are more fun.
The burgers themselves were delicious, perfectly cooked, and very flavorful. The burgers were quite thin, but slightly charred to add flavor. They were served with thin fries that were lightly battered, and also quite tasty.
Beer Selection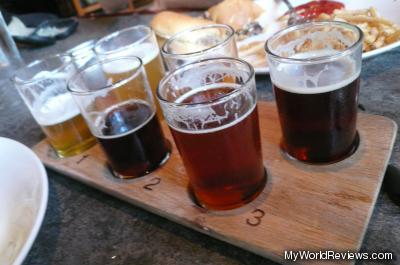 Beer Samples
The Yard House offers a selection of six mini beers, so you can try a bunch of their beers without consuming that much beer. The six beers you get are pre-selected, but the choices change fairly regularly.
review contents
Cost
Dress
House Salad
Sliders
Beer Selection
related reviews
More reviews in Honolulu, HI
Been here? Want to write your own review of this restaurant?