Your Reviews About the World
MyWorldReviews.com
Let the world know what you think
Word of Mouth
Sarasota, Florida, United States
6604 Gateway Ave
Sarasota, Florida, United States
34231
941-925-2400
View Map
Overall Experience:
7 / 10
Date Visited:
Wednesday, February 6, 2008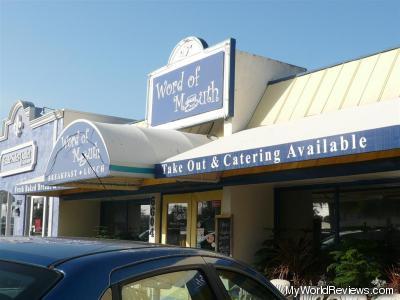 Word of Mouth is a breakfast/brunch place serving typical American breakfasts with everything from eggs, bacon, potatoes, waffles, French toast, and pancakes. It's not a very big place, but it's quite popular. They do have a lunch menu as well, but their breakfast menu is quite extensive.
Cost
Entrees range in price from $5-$10.
Service
The place is fairly small and very busy. We arrived on a Wednesday morning and had to wait a few minutes for a table. Service was otherwise as expected.
Parking
The restaurant is located in a small strip plaza. There is plenty of parking in the plaza.
Dress
Very casual - shorts and a t-shirt are fine.
Items Ordered
Fresh Squeezed Florida OJ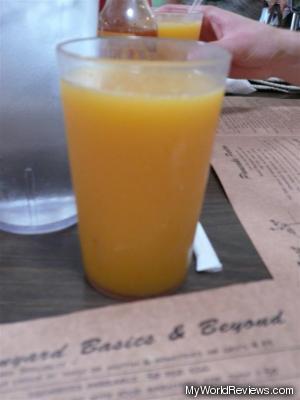 Freshly Sqeezed Orange Juice
This was a small glass of freshly squeezed orange juice. I recently had Tropicana lots of pulp orange juice, and I have to admit I couldn't taste the difference.
Spinach, Bacon, Cheddar Omelette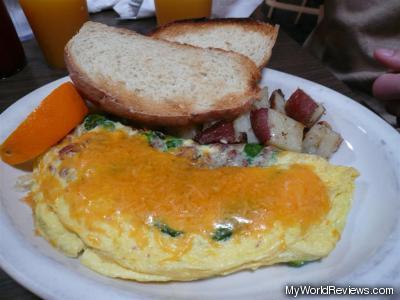 Spinach, Bacon, Cheddar Omelette
Served with choice of homefries or grits along with toast, biscuit or fresh baked muffin.
The omelette was ordered with homefries and toast. The toast was sourdough bread, although many other bread selections were available. The homefries were pretty good potatoes. There was also a slice of fresh orange on the plate which was a nice touch. The omelette was as expected with a good amount of bacon and spinach and cheddar on top.
Croissant French Toast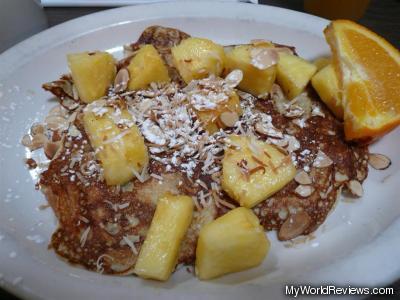 Croissant French Toast
Using a croissant to make French toast makes the French toast that much better. It was quite good and topped with fresh pineapple, toasted coconut, and sliced almonds. It was very tasty, although a bit sweet for breakfast. This would be a really good dessert.
Maple Syrup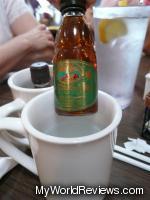 Maple Syrup
You could order the real maple syrup for an additional cost. It came served in a glass of warm water. I find there's nothing like real maple syrup on pancakes or French toast, although with the other toppings on the French toast I found I didn't need to use very much.
review contents
Cost
Service
Parking
Dress
Items Ordered
Fresh Squeezed Florida OJ
Spinach, Bacon, Cheddar Omelette
Croissant French Toast
Maple Syrup
related reviews
More reviews in Sarasota, FL
Been here? Want to write your own review of this restaurant?