Your Reviews About the World
MyWorldReviews.com
Let the world know what you think
Wok to Walk
New York, New York, United States
106 University Place
New York, New York, United States
10003
woktowalk.com
View Map
Overall Experience:
6 / 10
Date Visited:
Wednesday, August 6, 2008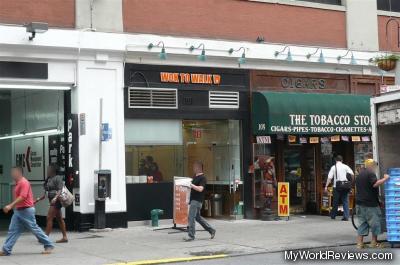 Wok To Walk
Wok to Walk is a "create your own stir fry" restaurant near Union Square in NYC. In the Netherlands, there are places like this all over. In the United States, this is the first restaurant of this type I've managed to find. The restaurant features indoor seating, or you can get your stir fry to go.
At Wok To Walk, the base stir fry costs $5.90. This includes your choice of base (rice/noodles) stir fried with a couple vegetables, an egg, and some sauce. If you want to add other items (which most people do), you pay for those, too. Meat, vegetables, and other items (eg. nuts) are available to add for an additional fee. The restaurant had about 6 sauces to choose from, including a teriyaki sauce and a curry sauce.
Dress
Very casual
Cost
Although the base $5.90 fee is fairly cheap, you will likely want at least one meat item. Meat items were around $2-$2.50. We paid $10.73 for one stir fry.
Items Ordered
Whole Wheat Noodles, Beef, Broccoli, and Teriyaki Sauce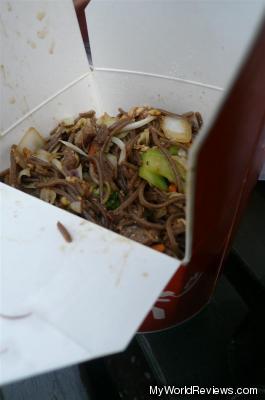 Beef Stir Fry
Cost:
10.73 (after tax). $5.90 + $2.50 (beef) + $1.50 (broccoli)
For our stir fry, we chose whole wheat noodles as the base, then added beef and broccoli (for $4 total), and the teriyaki sauce. It was quite a good combination. The noodles were of medium thickness (a bit thicker than the skinny ones, but not nearly as fat as the fat noodles). The whole wheat noodles were a good choice.
Without the broccoli, the stir fry wouldn't have had nearly enough vegetable. The base stir fry has very little vegetable in it, so you probably want to add your own. Even with the added broccoli, the stir fry could have used more vegetables.
For a lunch, the stir fry was a large portion for one person, but not quite enough to share between two people.
review contents
Dress
Cost
Items Ordered
Whole Wheat Noodles, Beef, Broccoli, and Teriyaki Sauce
related reviews
More reviews in New York, NY
Been here? Want to write your own review of this restaurant?