Your Reviews About the World
MyWorldReviews.com
Let the world know what you think
Winter Jam
New York, New York, United States
East River Park
New York, New York, United States
nycgovparks.org/sub_things_to_do/events/winterjam/
View Map
Overall Experience:
5 / 10
Date Visited:
Saturday, February 7, 2009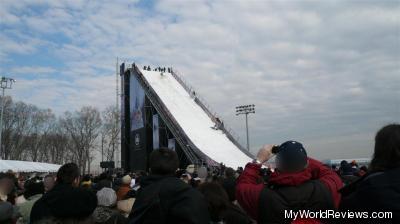 The snowboarding ramp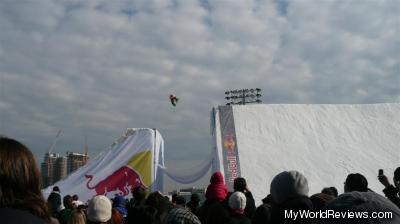 One of the snowboarders mid-jump
Winter Jam 2009 is a festival held in the East River Park of New York City. It consists of a number of winter friendly events that are fun for the whole family. Some of the attractions include a 90-foot snowboarding ramp (for professionals), a smaller hill for visitors to sled down, a free food sample tent, and an area to try cross country skiing. There are also a number of vendors selling food and other winter products.
The biggest attraction is definitely the huge snowboarding jump. Professional snowboarders were practicing doing tricks, with large crowds observing and taking pictures of them. Unfortunately, it was pretty warm on Saturday, so the snow was moist and prevented the participants from getting lots of speed on the ramp. This limited the quality of tricks that could be done, but it was still impressive to watch.
The public hill for sledding was very short, and really not worth even bothering to try. Cross country skiing looked like fun, but (as with the sledding hill) there was a very long line to try it. The food tent also had pretty long lines, but they moved relatively quickly. Snacks available to try included apple cider, horseradish cheddar cheese (YUCK!), chips, apples, and yogurt.
Cost
Admission to Winter Jam was free.
Getting There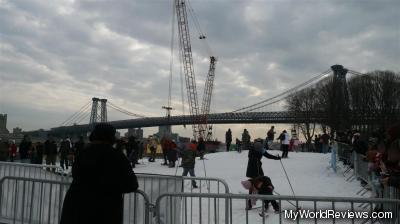 Visitors trying cross-country skiing
Unfortunately, the East River Park isn't located in the nicest area of the city. Care should be taken when deciding how to get there. There were a lot of police officers all along Houston Street, making it feel quite safe.
The easiest way to travel is by public transportation. The J, M, Z, F, and V trains can get you pretty close. Walk east along Houston street to cross FDR Drive, and enter the park.
review contents
Cost
Getting There
related reviews
More reviews in New York, NY
Been here? Want to write your own review of this attraction?