Your Reviews About the World
MyWorldReviews.com
Let the world know what you think
Wildcraft Grill & Bar
Waterloo, Ontario, Canada
425 King N
Waterloo, Ontario, Canada
N2J 2Z5
519-885-0117
www.charcoalsteakhouse.ca
View Map
Overall Experience:
7 / 10
Date Visited:
Monday, January 14, 2008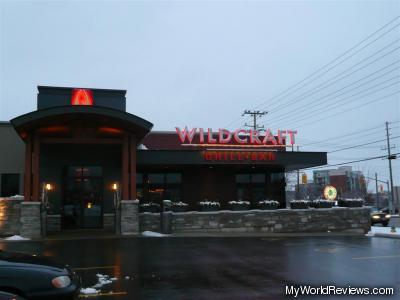 This is a fairly upscale restaurant for the Waterloo area. The food was quite good although not spectacular considering the price. This is a nice place to go for a special occasion. The interior is very modern with a cozy atmosphere. We were able to sit next to the fireplace for our dinner which was a really nice touch on a snowy winter night.
Cost
Most entrees are between $20-$30.
Dress
Most people were wearing nice pants and a nice shirt. Jeans would probably be okay if you happened to be wearing them. A suit and tie are not required.
Reservations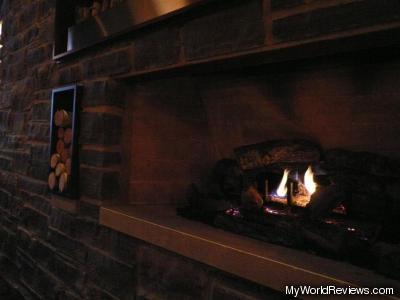 Fireplace
We went early on a weekday and it wasn't busy at all, but we had reservations anyway. It's probably much busier on a weekend.
Service
The service was appropriately paced for an upscale dinner. You certainly wouldn't want to come here if you're in a rush.
Items Ordered
Bread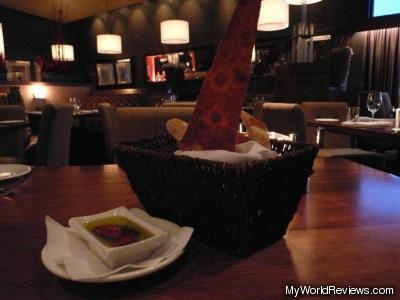 Bread and Interior Decor
The bread bowl came out after we ordered our meal. We had three choices including walnut bread, French baguette, and a flat bread. The bread came with dipping oil that had pesto sauce and a red pepper paste mixed in. This was a really nice combination with the bread. I've never had such a delicious dipping oil before.
Daily Soup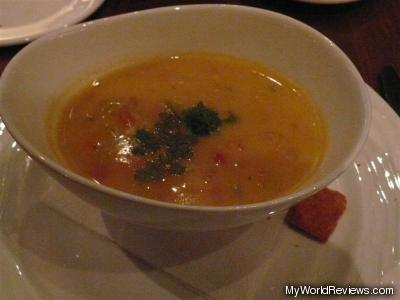 Daily Soup
Smoked Chipotle corn and sweet potato chowder
This soup had a nice smoky and spice flavor. It was mostly creamy with some chunks of sweet potato and corn.
Asian Salad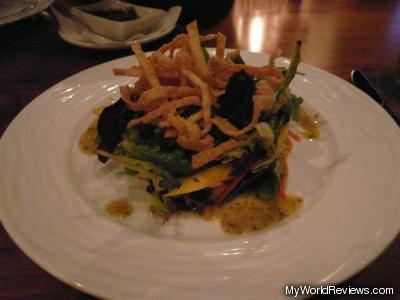 Asian Salad
Julienne vegetables, mango, dried cranberries, mixed greens, fried wontons and honey hoisin vinaigrette.
This was a very different, but good salad. It was an interesting combination of sweet and spicy (although only mildly spicy). I liked the combination of the fruit and vegetables with the sauce. The fried wontons on top were also a nice touch.
Beef & Blue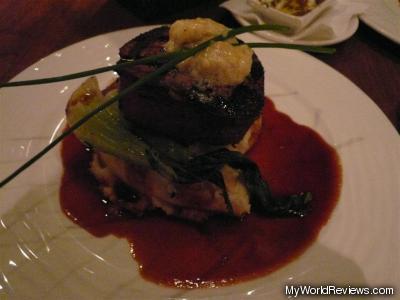 Beef & Blue
Bacon wrapped beef tenderloin, blue cheese butter, caramelized onion, charred vegetables and creamy mashed potatoes.
The beef tenderloin was ordered medium, but was marginally undercooked. Otherwise it was quite good. The creamy mashed potatoes were very creamy. The sauce was good, but could have been better. There were a couple of vegetables hidden under the steak, but more would have been appreciated.
Walnut Crusted Chicken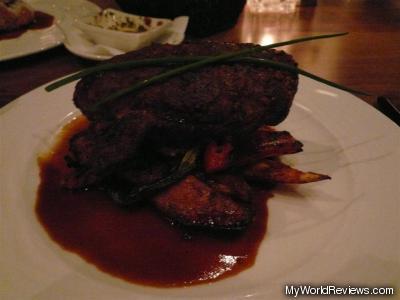 Walnut Crusted Chicken
Oven roasted breast of chicken, maple bourbon jus, charred vegetables and sweet potato wedges.
The chicken was quite good. It was not a typical breaded chicken. The breading was very nutty in flavor and went really well with the chicken. My only complaint was that the chicken was a little dry, but that was solved when mixed with the delicious sauce. The sweet potato wedges had a sweet sauce on them making them extra sweet and delicious.
Hazelnut Chocolate Bomb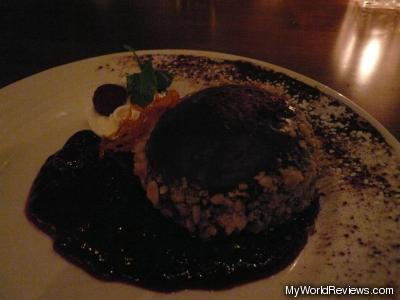 Hazelnut Chocolate Bomb
Frangelico, Chambord chocolate mousse, chocolate sponge cake, chocolate hazelnut ganache, raspberry compote, and candied orange peel
This dessert sounded better than it tasted. The chocolate cake was good, but heavy and dry. The raspberry compote was quite good, full of raspberry flavor and some whole raspberries.
review contents
Cost
Dress
Reservations
Service
Items Ordered
Bread
Daily Soup
Asian Salad
Beef & Blue
Walnut Crusted Chicken
Hazelnut Chocolate Bomb
related reviews
More reviews in Waterloo, ON
Been here? Want to write your own review of this restaurant?