Your Reviews About the World
MyWorldReviews.com
Let the world know what you think
Westway Diner
New York, New York, United States
614 9th Ave.
New York, New York, United States
10036
212-582-7661
westwaydinernyc.com
View Map
Overall Experience:
3 / 10
Date Visited:
Monday, October 29, 2012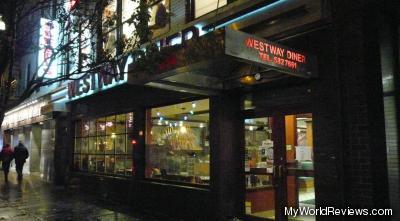 Westway Diner
Westway Diner, located in Hells Kitchen, NYC, is a diner that describes itself as Manhattan's Best Diner. We visited during the night of a storm, so it's possible it was because they were short staffed, but we weren't very impressed. The food is pretty typical diner food, quickly prepared, and not very tasty.
Dress
Very casual
Cost
Most items are around $10
Items Ordered
Baked Vegetarian Lasagna

Baked Vegetarian Lasagna
Served with Soup and Salad
The Baked Vegetarian Lasagna was one of the daily specials. The salad was mostly lettuce with a couple pieces of tomato and cucumber on top. The vegetable soup was actually pretty good. The lasagna itself was a disappointment. It was quite bland and really quite bad. There were a bunch of different types of veggies in it, but the cheese was mushy and weird and ruined the lasagna.
Cajun Chicken Wrap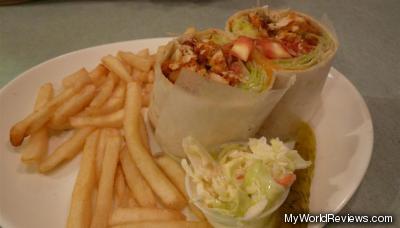 Cajun Chicken Wrap
Cajun Chicken with an assorted blend of vegetables with balsamic vinegar
When I visited they were out of waffles fries, so I just tried the regular fries. They were pretty plain tasting. The chicken in the wrap was pretty good and had a bit of flavor, but the wrap itself was just OK. It was very bland and plain tasting.
review contents
Dress
Cost
Items Ordered
Baked Vegetarian Lasagna
Cajun Chicken Wrap
related reviews
More reviews in New York, NY
Been here? Want to write your own review of this restaurant?