Your Reviews About the World
MyWorldReviews.com
Let the world know what you think
Westin Times Square
New York, New York, United States
270 West 43rd Street
New York, New York, United States
10036
(212) 201-2700
www.westinny.com
View Map
Overall Experience:
7 / 10
Check-In Date:
Sunday, October 28, 2012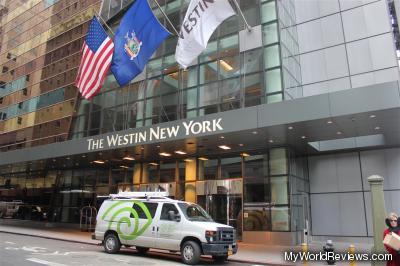 Westin Times Square
The Westin Times Square is a fairly new hotel just half a block away from Times Square. The location is great if you are visiting NYC as a tourist. It is just steps away from several subway lines and many attractions. The hotel is nice, and slightly upscale, I would give it a 4 star rating, but there was nothing special about the rooms. We stayed here during Tropical Storm Sandy, and the staff was very efficient. The only obvious cutback was that the Shula's restaurant was closed, leaving Bar 10 very busy.
The Room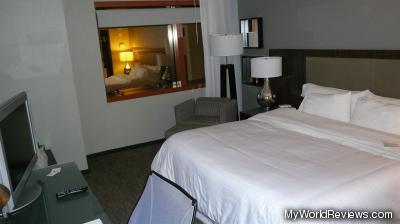 The Room
The rooms were fairly spacious and equipped with all the standard furniture: desk & chair, flat screen TV, an arm chair, and king bed. The bathroom had a nice dark tile on the floor, but the walls were not tiled and instead had some weird wall paper on them. We were staying in an accessible room, so there was only a shower and no bathtub. I found the room pretty quiet, even though we were near the elevator, but we were also 24 floors up.
Breakfast Buffet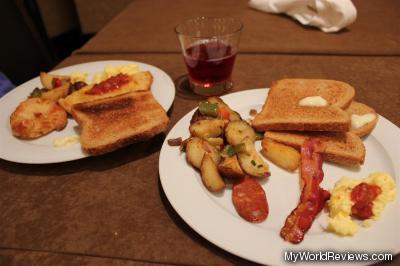 Breakfast Buffet
During our stay, there was a buffet breakfast in one of the conference rooms on the 5th floor. I don't know if this is their normal setup, or if they were trying to increase capacity for the visitors here during the storm. If they always have the buffet on the 5th floor, it was a bit weird. Conference room tables were setup almost as if they were picnic tables, in a seat yourself arrangement, and people often doubled up with other guests. The food selection was decent, although I don't think it justified the $26 price tag. There were cold scrambled eggs, breakfast potatoes, bacon, sausage, a cereal/yogurt/oatmeal bar, cut fruit, juice, pastries, bagels, bread and toasters.
review contents
The Room
Breakfast Buffet
related reviews
More reviews in New York, NY
Been here? Want to write your own review of this hotel?