Your Reviews About the World
MyWorldReviews.com
Let the world know what you think
Webster Hall
New York, New York, United States
125 E 11th St
New York, New York, United States
10003
212-353-1600
websterhall.com
View Map
Overall Experience:
4 / 10
Date Visited:
Saturday, October 11, 2008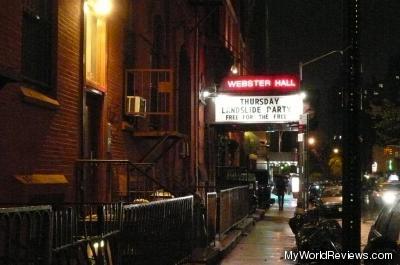 Webster Hall
Webster Hall is a dance club located on 11th street in Manhattan. It's quite a large club - it has four floors, and four separate rooms (the uppermost room is a two-story room, and the main floor has two rooms). The bottom floor plays nothing but hip hop. The smaller room on the main floor plays latin music, while the main room plays a variety of "upbeat, dance-style" pop music. The two-story room upstairs plays a variety of music, depending on which guest DJ is visiting during that particular night. Each of the floors has at least one bar.
There is often a line outside. If you plan to arrive before 11pm (to hopefully get in without paying cover - see below), there will probably be a 10-15 minute wait on an average night. Your photo id will be checked while in line. Before you can enter the club, any purses will be inspected, and you will be patted down.
Dress Code
Webster Hall does have a dress code, but it doesn't appear to be all that strictly enforced. The bouncers may let you in if you pretend not to know about the dress code, and look like you won't cause any trouble. To be on the safe side, most men wear jeans, button shirts, and shoes that aren't running shoes.
Cost
Usually, visitors aged 21+ can get free admission if they arrive before 11pm. One time we visited and there was a "special event" going on (I didn't notice anything special at all), but there was a $30/person cover charge. Unreal! Apparently to get free admission on that night, you needed to print a coupon off their website. I was frustrated with their change in policy for the "special event", and am still frustrated at the outrageous $30 cover charge. I have no idea what the cover charge is on a typical night if you arrive after 11pm - possibly $30. The music was enjoyable, and we had a good time at the club, but it wasn't good value for the exorbitant cover charge - hence the low rating.
review contents
Dress Code
Cost
related reviews
More reviews in New York, NY
Been here? Want to write your own review of this nightlife?