Your Reviews About the World
MyWorldReviews.com
Let the world know what you think
Wallsé
New York, New York, United States
344 West 11th Street
New York, New York, United States
10014
212-352-2300
kg-ny.com/wallse
View Map
Overall Experience:
8 / 10
Date Visited:
Sunday, February 17, 2013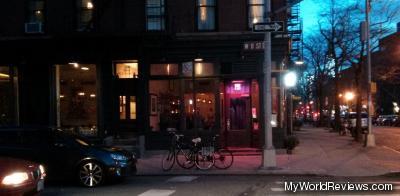 Wallsé
Wallsé is a Michelin-star fine dining restaurant located in the West Village of NYC. The restaurant was on a cute corner and consists of two small rooms. The tables were packed very close together, but that's typical for this neighborhood. Everything we had was very good.
One thing worth mentioning is the Manhattan I ordered on the rocks - it was served with a large ice cube, perfectly shaped like a cube. I loved this detail.
Dress
Smart casual is appropriate
Cost
Most appetizers were around $15-$20, with entrees being around $35-$40.
Reservations
When we visited around 6pm on a Sunday evening, there were still a few open tables. Reservations are recommended.
Items Ordered
Amuse Bouche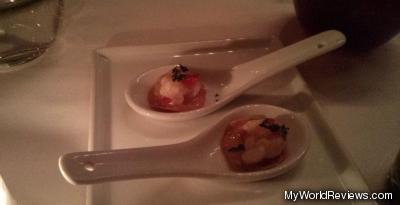 Amuse Bouche
The amuse bouche was a marinated monkfish ceviche. It started out with a strong fishy taste quickly followed by the marinade, which was fresh with a strong citrus flavor.
Spätzle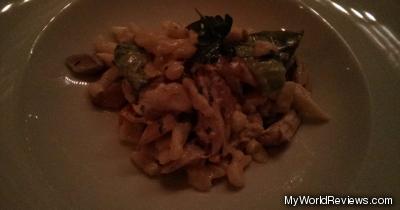 Quark Spätzle
Quark Spätzle with Braised Rabbit, Root Vegetables and King Oyster Mushrooms
The spätzle was lighter in flavor than some I have had in the past - it didn't feel too heavy. It went very nicely with the small pieces of rabbit, brussel sprout, and mushroom.
Chestnut Soup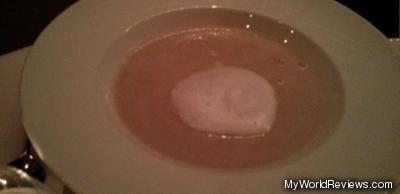 Chestnut Soup
Chestnut Soup with Armagnac Prunes and "Wiener Melange"
The chestnut soup was rich and creamy. The chestnut flavor was mild, but detectable - they lent their rich buttery flavor to the soup. There was a single prune in the middle of the dish that added a very sweet note. The bowl of soup was not very big - which is good considering how rich it was.
Lamb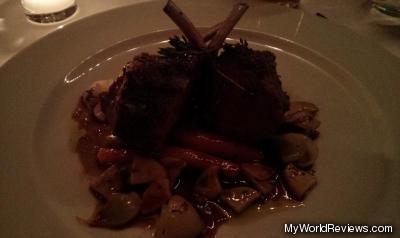 Rack of Lamb
Rack of Lamb with Turnips, Eggplant, Tomatoes and Zweigelt Sauce
This dish had two pieces of lamb served with some small vegetables (mainly onion and turnip) and a red wine reduction. The pieces of lamb were served rare and encrusted with flavorful herbs. The sauce was very flavorful and the perfect accompaniment to the lamb. My only complaint is that there could have been a few more vegetables.
Roasted Duck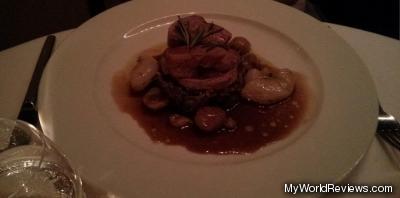 Roasted Duck
Roasted Duck with Chestnuts, Cipollinis and Wild Rice
This dish consisted of six pieces of rare duck served on top of a bed of herb-infused wild rice with a couple chestnuts and onions. The sauce was excellent and flavorful, although perhaps a bit salty. The chestnuts went very well with the duck, and the rice was very flavorful. Like with the lamb, my only complaint with this dish was the lack of vegetable.
Salzburger Nockerl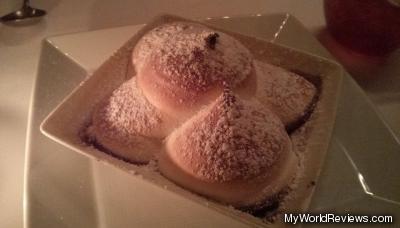 Salzburger Nockerl
Salzburger Nockerl with Huckleberries
Salzburger Nockerl is an iconic dish, and we had to try it at Wallsé. It did not disappoint. It was more filling than we thought it would be. It was like a very moist and sweet meringue topped with icing sugar. There were a bunch of huckleberries on the bottom in the middle of the plate that went nicely with the meringue.
review contents
Dress
Cost
Reservations
Items Ordered
Amuse Bouche
Spätzle
Chestnut Soup
Lamb
Roasted Duck
Salzburger Nockerl
related reviews
More reviews in New York, NY
Been here? Want to write your own review of this restaurant?