Your Reviews About the World
MyWorldReviews.com
Let the world know what you think
Waldorf Astoria Sunday Brunch (Peacock Alley)
New York, New York, United States
301 Park Ave
New York, New York, United States
10022
212-872-4895
www.waldorfnewyork.com
View Map
Overall Experience:
6 / 10
Date Visited:
Sunday, September 12, 2010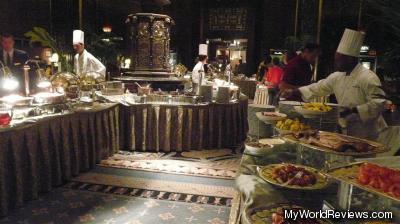 Sunday Brunch at the Waldorf Astoria Peacock Alley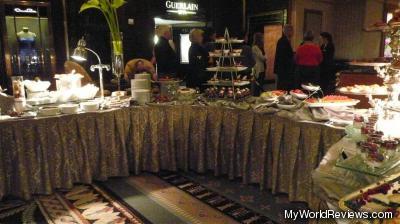 Dessert Station
The Waldorf Astoria is one of the oldest luxury hotels in New York City. Their famous Sunday brunch at the Peacock Alley restaurant is located in the hotel's beautiful lobby. The brunch boasts 12 food stations and over 100 items. While the food was good and offered quite a variety, for the price of the meal I was disappointed. It wasn't so extravagant that I thought it was worth the cost.
The food stations included a large selection of fish, seafood, and caviar - none of which I'm a fan of. There was a large selection of salads, including the famous Waldorf salad which was first created at the hotel in 1896. There was a variety of breakfast items including roasted potatoes, bacon, eggs, sausages, pancakes, french toast, and a made-to-order omelet station. The meat carving station included a leg of lamb and a beef Wellington which was delicious. There was some roast chicken, which I thought was a bit dry, some more vegetables, a selection of cheeses, and a bread table with some excellent breads and buns. The dessert station was quite extensive including a made-to-order crepe station and a chocolate fountain. There were so many cakes, puddings, and pastries that it was difficult to narrow down the selection.
I was surprised at first by how small the buffet looked, but after going through it, I realized that everything was just laid out in a compact space, and a station that looked like it had one item, actually had several varieties of related items.
Dress
Dress varied quite a bit. Some people were in suits, other were in jeans and casual clothing. There appeared to be no dress code.
Cost
$95 per person plus tax and tip. The food in no way justifies the cost of this brunch.
Service
There was nothing special about the service. Our plates were cleared and cutlery replaced while we were away from the table, but our napkins were not folded. The staff were all friendly, but it was not an upscale service. A service charge of 15% was included on the bill (bringing the total to just over $238 for two people).
Reservations
They take reservations by phone and online. I'm not sure if they are required.
review contents
Dress
Cost
Service
Reservations
related reviews
More reviews in New York, NY
Been here? Want to write your own review of this restaurant?